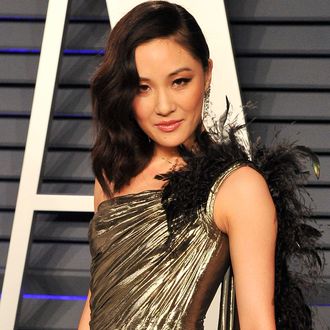 Photo: Allen Berezovsky/Getty Images
During the network bloodbath of cancellations and renewals on Friday, ABC decided to renew Fresh Off the Boat — a charming sitcom about an immigrant family in the '90s — for a sixth season. This is pretty much the textbook definition of good news for the show's cast and crew, although you wouldn't think so thanks to star Constance Wu's reaction: Hours after the renewal announcement, she tweeted "fucking hell" and how she was "literally crying" about the news, and even commented "dislike" on the show's Instagram announcement. Wu tried some damage control by the end of the evening, saying everyone's assumptions about her being angry due to the renewal were wrong, but she's now offering additional clarification about why she reacted the way she did.
"I was temporarily upset yesterday not because I hate the show but because its renewal meant I had to give up another project that I was really passionate about," she wrote, in part, in a Twitter statement. "Fresh Off the Boat is a great show that I'm proud of and that I enjoy. I've gotten to fully explore my character and I know her like the back of my hand. So playing Jessica is fun and easy and pleasant. I get to work with a kind and pleasant cast and crew, which makes it all quite enjoyable." She continued:
So obviously I don't dislike doing a show that is fun and easy and pleasant. But in general, I've always sough artistic challenge over comfort and ease. I was disappointed in not being able to do that other project, because that other project would have challenged me as an artist. That other project would have been really hard and not easy or pleasant at at … but my words and ill-timing were insensitive to those who are struggling, especially insensitive considering the fact that I used to be in that struggle too. I do regret that it wasn't nice and I'm sorry for that.
Wu's Fresh Off the Boat co-stars, such as Randall Park, have yet to publicly address her comments. "I do love and enjoy it," she added about the show. "I hope you believe me." You can read her full statement below.
Update: Wu wasn't the only one making clarifying statements on Twitter today. On Friday, her Crazy Rich Asians co-star Gemma Chan liked a tweet that described Wu as difficult to work with, before the tweet was deleted. On Saturday, Chan asserted it was an "accidental 'like,'" and that she would be more careful with her fingers in the future.