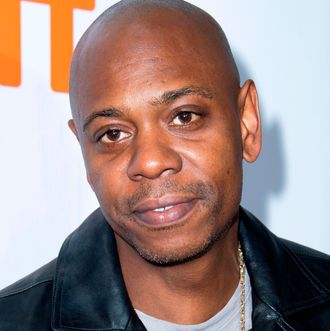 Dave Chappelle.
Photo: Valerie Macon/AFP/Getty Images
Dave Chappelle is getting a big, fancy award for his decades of work in comedy. The Kennedy Center announced today that Chappelle will receive this year's 22nd annual Mark Twain Prize for American Humor, which will be officially handed out on Sunday, October 27, and later broadcast on PBS January 6, 2020.
"Dave is the embodiment of Mark Twain's observation that 'against the assault of humor, nothing can stand.' For three decades, Dave has challenged us to see hot-button issues from his entirely original yet relatable perspective," Kennedy Center president Deborah F. Rutter said on the news. "Dave is a hometown hero here in Washington, D.C., where he grew up. We're so looking forward to welcoming him back home."
Other recent Mark Twain Prize winners include Carol Burnett, Eddie Murphy, Bill Murray, David Letterman, and most recently Julia Louis-Dreyfus, who took home the award late last year.