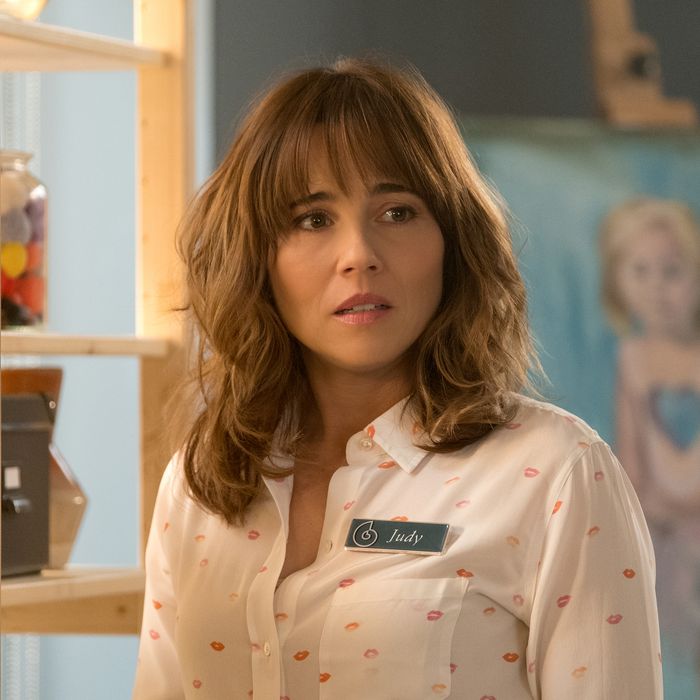 Photo: Lara Solanki/Netflix
The specter of what was revealed at the end of the last episode — that Judy clearly is the person responsible for the hit-and-run death of Jen's husband, Ted — hangs over the opening scenes of "Maybe I'm Crazy," the second episode of Netflix's Dead to Me. The questions are plentiful. Did Judy go to the Friends of Heaven meeting to try to make amends to Jen for killing her husband? Exactly how crazy is she? Not only is the legal risk plentiful, but it feels like an act of sociopathic cruelty. And yet Cardellini plays Judy not like a dangerous killer but someone genuinely, emotionally raw and looking to connect. Does she think that this subterfuge into Jen's life is a way to heal both of them? And, perhaps most of all, can the writers of Dead to Me convince viewers that what Judy is doing isn't absolutely cruel and unusual enough that we hate her for it?
Jen's son Charlie isn't ready to welcome Judy into the family quite yet, especially since she's bringing meatless pasta to her first dinner table. "You don't even know her," he says. Charlie thinks it's fucked-up. Judy is at the head of the table, probably where Ted sat. Eek. That probably doesn't help. "I'm an excellent judge of character," says Jen. Judy is not a petty thief with an opioid addiction. "She could be a crazy person," says Charlie. He's not wrong. After all, Judy is staying in a guest house that Ted spent a lot of time in — Ted, the man it appears that Judy killed.
After dinner, when Jen reveals that Steve wants Judy to sell the house they shared, Judy seems upset, but it probably has as much to do with her big secret as the one that Jen has just revealed. When the shock leads Judy to cut her hand, she retires to the guest house, last occupied by the man she killed. She wanders and looks at pictures, clearly very uncomfortable and emotional. She can't sleep. There's a flashback to the accident, which happened at night, with Judy behind the wheel.
A quick break for a question here: How much does Steve know? He clearly didn't recognize Jen when she came to his door in the pilot. Does he know about the accident at all? Has he helped cover it up?
Judy goes to her old house to find that the locks have been changed on the home that Steve is now selling. Dick move, Steve. She then goes to Steve's office and barges in, saying "girl" a lot to the receptionist and ultimately leaving a Post-it note.
Meanwhile, Jen is driving when a yellow sports car speeds by at an irrational clip. Jen yells and gets the plate number, wondering if — hoping? — the speeding car has something to do with Ted's death. A few scenes later, the same car almost hits Jen. She throws a rock at it, and it speeds back, but Jen is unafraid. Dude spits on her feet and speeds off. He's an asshole, but more importantly, Jen's fearless.
Steve arrives at Laguna Realty to talk selling the house, and he and Jen talk about Judy and how things were meant to be. When it's dropped that Judy is living in the guest house, Steve seems a bit taken aback. "She's been through a lot," he says. When Jen says she's been a rock, Steve is stunned. "Wherever Judy goes, chaos tends to follow," he says. It's a beat that both characterizes Steve as a jerk — who calls an ex-wife who suffered through five miscarriages "a little nuts"? — and feels like ominous foreshadowing, given what's in Judy's storage unit.
Back at the guest house, Judy appears to be exorcising Ted, but it doesn't quite work. She ends up sleeping outside because the guest house is "spiritually overwhelming." Judy's cry/smile as she says this to Jen is a bit unsettling. She also mistakenly drops that she keeps some of her stuff in a storage facility. Cardellini brilliantly swallows those words, trying to get them back in, but it's too late. Luckily, sort of, Jen's prevented from asking follow-up questions when a pair of cops show up … and serve Judy with a temporary restraining order from Steve. Charlie feels vindicated.
From there we get our first real scene with Ed Asner's Abe, who lives at Judy's nursing home and talks shit about Steve as he sets up an online dating profile. He's sweet. She says she's not good enough for him. "I've done some really bad things, Abe." He says he knows she's good, "crazy or not." This is key to this episode, setting up that Judy is a kind, genuine person who just happens to have a pitch-black secret. Can we forgive her? Can Jen?
Jen and her partner Christopher tour Steve's house, which has already been scrubbed of Judy's personality, if it ever had it. Is this suspicious? Did Judy ever live there? But later during the tour, Christopher opens the door to a nursery before Steve can stop him, so it appears that at least part of Judy's story is true — there was a pregnancy. Steve can't even really look in there. James Marsden gets to play with some new emotional beats as Steve reveals that this last time, Judy was five months along when it happened. Just when it seems like they are about to have a truthful moment, though, Steve breaks away to the "sick" master suite. A blanket embroidered "Judy Ann" catches Jen's attention.
Back at Jen's house, Judy goes to talk to Charlie, who's playing a violent online game. They bond a little and order a pizza with a ton of meat on it. Jen goes into the guest house and looks at Ted's stuff, which she probably hasn't seen since he died. The tinkly piano score tries a bit too hard to sell the emotions here, but Applegate is good, as is Cardellini when Judy comes in with a comforting hug. Jen offers to clear out the guest house. They give some stuff to the kids, box some stuff up for storage, and Charlie says he wants dad's gun. Jen refuses and offers the drums instead, but Judy is a bit uncomfortable by the gun in the safe, which might as well be called "Chekhov's safe."
Given the amount of time we spend with Steve this episode, it tracks that the big final-act reveal is that he was in the passenger seat when Judy hit Ted. He knew. He knows. What will he do when he figures out Jen's connection to the man he saw die?
After that, Jen gives Judy the baby blanket she surely would have wanted back. Judy wraps it around herself and seems genuinely comforted and touched by the action. Jen reveals that Steve said that Judy was "nuts," which Judy says was practically her nickname. Jen thinks that's a way that men undermine women. (She's right.) And then Jen gets a little nuts, spotting the yellow sports car, pulling a golf club from her car, and bashing it. Crazy? Justified? You decide.
Extra Counseling
• The way they hit the word gun as they're cleaning out the guest house is almost comical in its foreshadowing. That gun is coming back.
• Steve's company is called Wood, Wood & Wood. It's one of the most hysterically awful names in a show in a long time.
• Speaking of Steve, a moment for the greatness of James Marsden, who would have been a massive star in the '40s and '50s and is underrated for his range today. He's always good, and sometimes great. Let's see what he gets to do here.