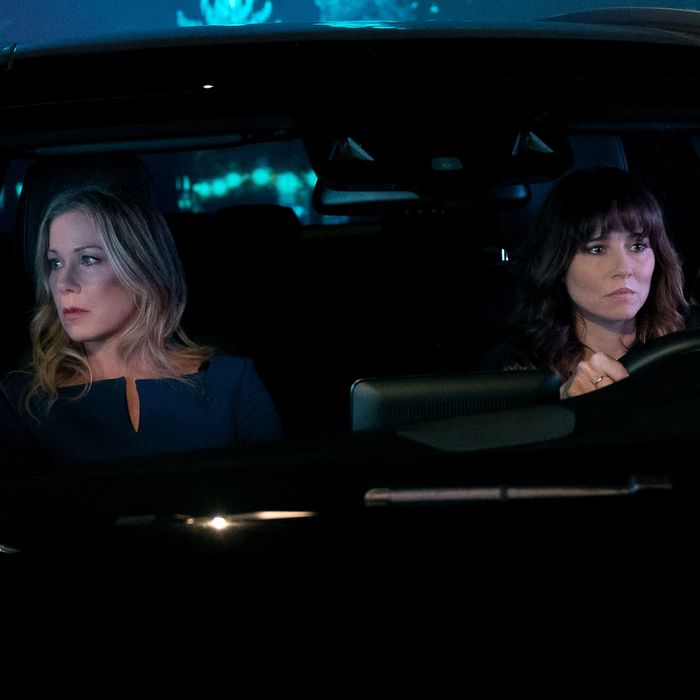 Photo: Saeed Adyani/Netflix
"I Can't Go Back" does something interesting within the moral gray area at the heart of this show: It turns someone who's thus far been portrayed solely as a victim into someone flawed. Of course, no one is suggesting that Ted deserved to get hit by a car and bleed to death on the side of a California road, but when you hear that he told his mistress that his wife died of breast cancer, it's hard to keep your opinion of him from changing. Ted watched his wife get a double mastectomy to avoid the same fate as her mother, and then used that event as a part of a web of lies so he could cheat on her. It's truly gross, and clearly meant to make viewers feel conflicted about exactly how tragic it is that Judy killed Ted.
It's also an episode that deepens the dynamic between Judy and Steve. For the most part, Steve has just been an abusive prick, but it turns out that Judy still has a physical connection with him. Oh, he's still a jerk — the kind who wakes up with motivational platitudes from a podcast called The Winner's Strategy before he jumps on a mini-trampoline — but Judy can't get enough of him. How will her connection to Steve impact her ability to hide her crime?
Most of the "investigative" portions of this episode aren't about the death of Ted, but rather the life he led before Judy plowed into him. After learning that Ted was sleeping with someone with the screen name "bambi88," the ladies track down Ted's mistress. Judy advises against violence as they head to the restaurant where the woman in Ted's secret life works.
Their waitress happens to be Bambi, who looks like she's about 19, and is pretty much the polar opposite of Jen. She says things like "apps," "yummo," and "amaze," and tells them that the owner of the theme-less restaurant is a "globalist." Ewww. Importantly, Jen reveals to Judy that she had a double mastectomy after her mother died of breast cancer. Not only does it make the later revelation about Ted just that much grosser, it's evidence of how close Jen and Judy have become. One gets the impression that Jen has told literally no one else about this part of her life.
The moment of connection between Jen and Judy is fractured when Jen learns that Steve has taken his home off the market, and that Judy is probably to blame. Not only is Steve an asshole, but now Jen has lost a sale. It's not a good dinner for Jen, who lashes out at the choices that Judy has made, and now may literally kill a waitress named Bambi.
As they've done a few times before, the writers turn our feelings for one character by offering a different side of the story. Judy seemed reprehensible in the pilot after it was revealed that Steve was alive, but the sympathy garnered by her story of five miscarriages won viewers back to her side. A micro version of this happens with Bambi, who seems like an annoying fling who could have ruined Jen's life at first, but is revealed to be a victim too. She thinks her boyfriend of a year and a half has just ghosted her. And then, after Jen rushes out, Judy learns that Ted told Bambi that his wife was dead from breast cancer. Ted was not a very good dude.
A chain of events with an angry Jen leads to Judy being forced to drive home, the first time she's driven a car since committing manslaughter, with her victim's wife in the passenger seat. If Dead to Me wasn't such a smart show, it would be ridiculous, but this sort of extreme dramatic irony works in the context of the tone of this series.
Judy has a key line here, in which she says she wants things to go back to the way they were before. Jen presumes she's speaking of before the miscarriages, but Judy is really speaking of Ted's death. There's a beat in which Judy flashes back to the night of the accident, when she told Steve that they had to go back but he refused. Both Steve and Jen are telling Judy what to do; both are telling her she can't "go back." The season could be about Judy realizing that she needs to do what she thinks is right and not listen to those who pressure her.
And yet she's pressured at least one more time — by Jen, who forces her to leave Steve for good. Judy will no longer have the "Secret Dick" in her life. The key exchange in this little excursion comes when Jen points out that she spent 18 years with a liar, and of course she's spending all of her time with an even bigger liar now. What does this say about Jen?
And then Judy says, "I have to tell you something." How many times are the writers going to make us think that Judy is about to confess? Probably at least once an episode. No, she's not telling Jen about Ted's death, but rather Jen's fictional one. Judy conveys what Bambi told her about Ted saying that Jen was dead, and Jen wonders why she even cares who killed Ted anymore. If she only knew that Ted's killer was sitting right next to her. "I'm glad he's dead," Jen says. And then Judy takes them home.
Extra Counseling
• She's been good in every episode so far, but "I Can't Go Back" contains Christina Applegate's best performance yet. She's required to sell a great deal of emotional turmoil while driving the plot, and she balances both in ways that will be underrated. She makes subtle choices in the restaurant scene, like the way her body language changes every time Bambi walks up, that make the larger moments resonate more strongly.
• Speaking of that scene, it's probably the best overall so far this season. Both Applegate and Cardellini are great, partially because they're not getting along in a new way. Jen is confronting Judy, but Judy is fighting back, standing up for herself more than usual. It's a complex scene that could have turned sitcom-ish or maudlin in the hands of lesser actors.
• Credit as well to Kate Robin, a writer who knows a thing or two about tough tonal balances, having written several episodes of one of TV's best blends of drama and dark comedy: Six Feet Under.