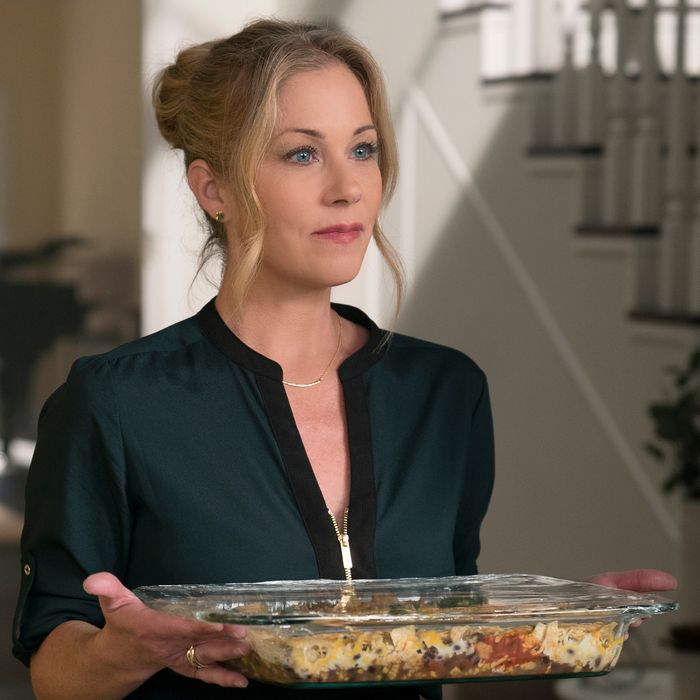 Photo: Lara Solanki/Netflix
Grief, friendship, and forgiveness swirl into a fascinating character study in Netflix's excellent new Dead to Me, a dark comedy with the twists and turns of a true-crime docuseries.
Liz Feldman, creator of Dead to Me, also wrote for the major CBS hit 2 Broke Girls, and this makes the structure of the new show a little clearer. It really has a traditional sitcom setup that's arguably pretty similar to Feldman's previous show in the way it bounces two seemingly opposite personalities off of each other with mostly comedic intentions. Christina Applegate's Jen is cynical and focused; Linda Cardellini's Judy is emotional and instinctual. It wouldn't be much of a stretch to see them played by Kat Dennings and Beth Behrs.
But where wacky hijinks would ensue on the CBS version, Netflix's Dead to Me is more ambitious in its storytelling, with a pilot that asks big questions of the viewer. How do we grieve? How do we forgive? How do we connect with someone new when our most essential connection has been severed? That final question is key to the revelations at the end of the pilot, for while the final shot reveals a secret that seems certain to doom Jen and Judy's blossoming friendship, it's really an episode about two different women brought together by life-changing events. They're connecting through shared disconnection.
Dead to Me sets its tone with an opening shot of Mexican Lasagna, an awful creation involving jalapeños and raisins that's just the latest in a long line of casseroles neighbors have provided to the recently widowed Jen and her boys Charlie (Sam McCarthy) and Henry (Luke Roessler). The opening scene has the feel of something like Desperate Housewives in its bitterness, but Dead to Me isn't quite that show. There are some beats that feel like they're satirizing the world of wealthy suburbanites, but it's mostly about grief, friendship, and some pretty deep secrets.
It starts when Jen goes to an emotional support meeting called Friends of Heaven, one of those places with cheap coffee and cheaper platitudes from a man named Pastor Wayne. There's a nice view, though. There, Jen meets Judy, who reveals that she lost her husband at 44 to a heart attack. They seem different at first, but they're both struggling with the sudden, unexpected losses of their husbands. Jen reveals that she's having trouble sleeping, and Judy offers her phone number for help and friendship.
It's not long before Jen calls Judy — a heartbreaking exclamation from her youngest that "I just don't want you to be alone" probably means sleep would be impossible anyway. It's after midnight, and the lengthy phone scene allows for some character background and development of chemistry between Applegate and Cardellini. We hear that Ted was running and trying to get in shape when a car hit him. They eat Entenmann's cookies and chat about their lives and loss. A genuine, believable chemistry forms that's incredibly important to the overall success of this pilot. It has to make sense that, despite their differences, these two people would be drawn to each other as friends. They trade pictures, and Jen sees one of Judy's husband, which is key to the episode's first major reveal.
Jen and Judy get together to watch The Facts of Life, discussing which characters from the show they're most like. Jen thinks she's a Jo but she's really a Blair; Judy reveals she's a Tootie, which doesn't make a lot of sense at first, but a later clip — about Tootie going overboard with her stories — makes the connection clearer (and feels almost too self-aware for Judy). Importantly, Judy is always going to Jen's lavish, multi-million-dollar home. Jen isn't going to Judy's.
They drive around later, and Jen reveals that she's looking for person-size dents in cars. They smoke pot on the beach, and Jen thanks Judy for "not being repulsed" by her version of grief, and this is essential to what's revealed later (and what the final shot makes clear will have to be revealed later in the season). The complex thing about Dead to Me is that Judy's deception doesn't change the fact that she helps Jen heal. The connection may have been forged under false pretenses, but how much does that change the outcome when the healing itself is real?
The first major gotcha of the pilot comes when Jen calls Judy and tells her that she's coming to her. The camera zooms and we get a rare use of score; something bad is about to happen. And that's when Steve (James Marsden) answers the door. He's not dead. They just broke up. Could you forgive that big a deception? Weren't you just as furious as Jen at first? It feels gross and manipulative, the act of a sociopath, but the next day, at Friends of Heaven, Judy offers an explanation to a furious Jen that makes her (and the viewers) soften: Steve left Judy after Judy had multiple miscarriages. The latest was her fifth. It's heartbreaking, made even more so by Cardellini's vulnerable performance. She's great here in winning both Jen and viewers back with emotional rawness.
Jen decides to forgive Judy. She goes to the nursing home where Judy works and offers to let her come stay with them (and of all the twists in the pilot, this sudden cohabitation furthest stretches the suspension of disbelief). And then the episode veers to two final beats that will be important: First, Jen is selling Steve's house. Second, Judy has belongings in a storage unit, including a car with a person-shaped dent. As it did earlier in the episode, "Get Happy" plays over the credits, but the lyric that sounds most relevant is ominous: "Get ready for judgment day."
Extra Counseling
• Is anyone else at least a little worried that the miscarriages story isn't true?
• The major music cues like The Beach Boys are obvious, but if you're wondering what Jen headbangs to in the car, it's "Paralyzed" by Caliban.
• "Smoking is the greatest thing that slowly kills you." I may not have been a smoker for years, but I can attest that this is incontrovertible fact.
• Applegate's timing is perfect from scene one, her first line being "Aw, fuck" as she spits out coffee, but it's the way she perfectly gives and takes with Cardellini that makes this show stand out from the jump. We'll talk more about their chemistry as the show progresses, but it's interesting to see it there from the beginning.
• It's funny that Charlie calls Tyler's dad Rick a "twat waffle," but funnier that Jen doesn't seem to flinch. Maybe Rick is awful, and Jen probably has so much else on her mind that correcting her son's salty language doesn't register.
• The pilot of Dead to Me was directed by Amy York Rubin, a TV vet who works all the time, helming episodes of Fresh Off the Boat, Superstore, SMILF, Angie Tribeca, and more.