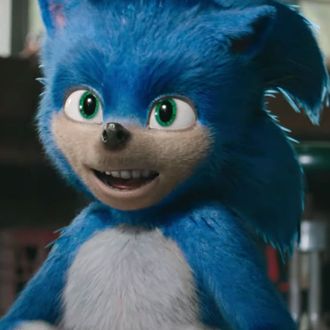 Photo: Courtesy of Paramount Pictures.
Sonic must be grinding his brilliantly white, humanlike teeth to nubs over this one. When the internet's sense of video-game nostalgia and/or uncanny valley ran up against the new Sonic the Hedgehog trailer earlier this week, the film's director, Jeff Fowler, promised to fix the design of the film's titular hedgehog posthaste. 'Thank you for the support. And the criticism," he tweeted Thursday. "The message is loud and clear … you aren't happy with the design & you want changes." In a recent interview with Newsweek, Detective Pikachu cinematographer John Mathieson weighed in on the Sonic trailer too — just some dialogue between one anthropomorphic fluorescent mammal movie to another. "Funny enough, I was offered [Sonic the Hedgehog]," he said. "And after watching the trailer, I thought, I'm so glad we don't look like that."
A frequent collaborator of Ridley Scott, Mathieson isn't just out to kick Sonic while he's down, though. (First of all, that hedgehog's way too fast for that.) No, according to the Academy Award–nominated director of photography, the issue comes down to the decision not to shoot Sonic on film. Many cinematographers, he says, are now being pressured into shooting digital films, as they are a "safer" choice for budget-conscious studios who want to closely monitor productions. However, digital is not necessarily the best option for every film's unique lighting and visual style.
"If all we're talking about is how these two films look, our film is better than Sonic the Hedgehog and I'm sorry, I don't care who I upset by saying that, but I think it looks better," Mathieson continues. "There's no reason why you can't shoot a film like [Detective Pikachu] or Sonic the Hedgehog on film. If you had, [Sonic the Hedgehog] would look more realistic. I look at Sonic the Hedgehog and I just go, 'Yeah whatever."