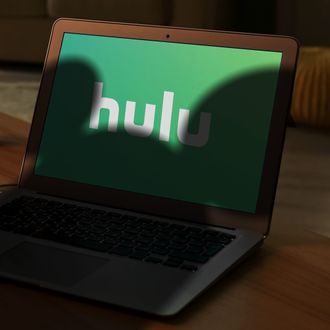 Photo-Illustration: Vulture, Shutterstock and Hulu
Disney chief Robert Iger said Tuesday that Hulu is now officially under his eye. Effective immediately, the Mouse House has taken "full operational control" of the veteran streamer, striking a deal with remaining Hulu shareholder Comcast to buy out the latter company's 33 percent stake in the service. The somewhat complex deal — a "put/call" agreement in Wall Street terms — means that starting in January 2024, either Disney or Comcast can require the other side to complete a sale of the stake at a price of at least $27.5 billion. In the meantime, however, Disney will be free to run Hulu on its own. The good news for Hulu subscribers used to watching next-day episodes of Saturday Night Live or This Is Us in between seasons of originals such as The Handmaid's Tale and Ramy: They're not going to disappear anytime soon.
As part of the Disney/Comcast agreement, Comcast has extended through late 2024 Hulu's licensing deal for thousands of hours of NBCUniversal content from NBC, Bravo, E!, USA, Syfy, and the company's other networks, including next-day reruns. Two caveats, however: Comcast will now have the right to put some content now exclusive to Hulu on its own Comcast/NBC–branded streaming service, and there's also a clause that lets Comcast terminate the Hulu licensing agreement after three years (or sometime in 2022). In turn, Comcast has agreed to put Hulu on the company's Xfinity X1 cable platform. Bottom line: For now, Hulu subscribers won't immediately lose any content as a result of the agreement, while Disney — which also recently bought out AT&T's 9.5 percent stake in Hulu — is now free to fully integrate the streamer into its recently enlarged magic TV kingdom. Disney recently bought most of Rupert Murdoch's 21st Century Fox film and TV assets, including FX Networks, National Geographic, and its stake in Hulu. With the takeover of Hulu complete, expect a lot more of the adult-themed formerly Fox-owned content (both new and old) to start showing up on Hulu in the coming months, while the company's family-friendly fare powers the soon-to-launch Disney+ streaming service.