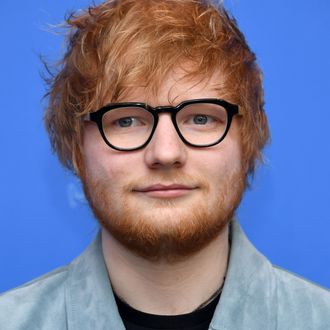 Ed Sheeran.
Photo: Pascal Le Segretain/Getty Images
As promised, Ed Sheeran has dropped his new collab with Chance the Rapper and PnB Rock. "Cross Me" is off Sheeran's upcoming album No. 6 Collaborations Project and is all about just how off the market Chance and Sheeran are. The message is clear: Don't "cross" their significant others, and there won't be a problem. Sheeran dropped the new testament to his commitment along with a very artsy lyric video.
"Cross Me" was announced three days ago with Chance and PnB Rock's names scratched out on Instagram. His first release from the upcoming album was the summer bop "I Don't Care" featuring Justin Bieber, which broke the Spotify record for most streams in a single day, according to Forbes. Sheeran and Bieber's music video was also pretty weird, to say the least.
Unfortunately, Sheeran has been Taylor-level cryptic about the rest of the album. We know there are 13 titled tracks, but he won't say who's on them. He recently posted a self-censored video on Instagram with Charlamagne tha God, where he discussed all his future collabs. Guess he's trying to distract us all with his upcoming cameo in the musical film Yesterday, coming out on June 28. Sheeran also recently worked with Lil Dicky as a koala on his star-studded "Earth" video and with K-Pop superstars BTS on their new album Map of the Soul: Persona. No. 6 Collaborations Project is out on July 12.