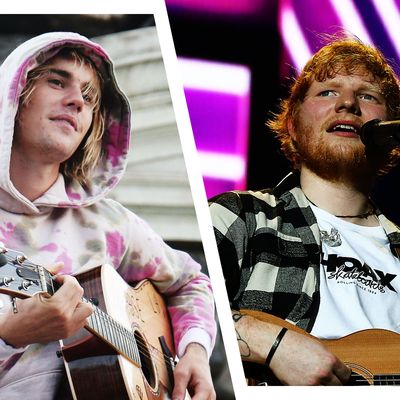 Photo: Justin Bieber and Ed Sheeran.
Ed Sheeran gives away better singles than he keeps sometimes. When you realize that the British-Irish performer is the co-writer in common on Little Mix and Nicki Minaj's "Woman Like Me," Liam Payne and Quavo's "Strip That Down," BTS and Halsey's "Make It Right," and DJ Snake and Lauv's "A Different Way," you start to wonder if he's holding himself back as a solo artist by lending everyone else a hand or if he's simply smart enough to know that he's capable of writing more and different songs than the ones we're cool with hearing him sing. Sheeran's trio of songs with Justin Bieber so far — see Purpose's "Love Yourself" and "The Feeling" and the Major Lazer collaboration "Cold Water" — suggest the latter. Would "Love Yourself" pop without the added thrill of Bieber dropping the nice-guy act and twisting the knife? Was the Galway Guy a good enough dancer to give "Cold Water" the footwork it deserved in a live setting? Perhaps. Perhaps not.
If you don't count the backing vocals Ed laid down for "Love Yourself" or the fact that they both cameoed in Lil Dicky's "Earth" (about which the less said the better), "I Don't Care" is the first official Bieber/Sheeran (Bieran?) duet. It's a smart pairing of Justin's ear for pop sounds that work on a global scale and Ed's knack for a soaring melody, both tighter than "Shape of You" and sadder than "Friends." Both singers are at their best when they're playing vulnerable — the Sheeran hits that will endure are the ballads, and the most relatable Bieber songs are the ones where he seems bone-tired and desperate for companionship — and "I Don't Care" gives the duo a vehicle to pout about bad parties and good girlfriends. The lyrics are down-to-earth, almost to the point of pandering; the thought of either of these guys feeling nervous and unloved at a party seems unrealistic.
That said, the job of a good pop song isn't to help us understand the artist better; it's to make the listener feel understood. These lyrics are meant to be sung out loud. You imagine yourself in the driver's seat. The introverted woes of "I Don't Care" place it in league with a growing class of anti-party party songs like Ariana Grande's "Fake Smile," Billie Eilish's "Xanny," Alessia Cara's "Here," and the Snakehips, Tinashe, and Chance the Rapper single "All My Friends." Is it a fad? Or are we, as a generation, so done with the keeping up of appearances that life on Twitter and Instagram and Facebook and TikTok and Tinder and Twitch and Slack and Discord demands that even our summer jams carry an anxious, antisocial pallor?