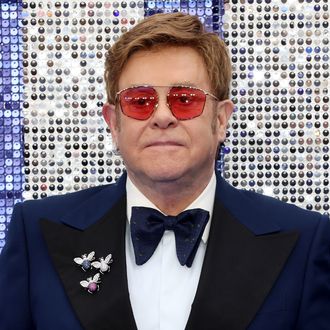 Elton John at the U.K. premiere of
Rocketman
.
Photo: Tristan Fewings/Getty Images
Elton Hercules John has hardly lived a PG-13 life. Yet for Rocketman, the biopic about the openly queer pop icon in theaters May 31, some studios wanted to "tone down the sex and drugs so the film would get a PG-13 rating," John writes in the Guardian. "But I just haven't led a PG-13 rated life. I didn't want a film packed with drugs and sex, but equally, everyone knows I had quite a lot of both during the '70s and '80s, so there didn't seem to be much point in making a movie that implied that after every gig, I'd quietly gone back to my hotel room with only a glass of warm milk and the Gideon's Bible for company."
In March, rumors that Paramount had asked director Dexter Fletcher to tone down a sex scene between Taron Egerton (John) and Richard Madden (John Reid) were quickly dispelled ahead of the film's release. Producer Matthew Vaughn told reporters at the film's Cannes premiere that John had told him to go "as R-rated as you need to" in regards to his troubled childhood, drug and alcohol abuse, trip to rehab, and sex life.
The film's many dream and dance sequences were also nearly on the cutting-room floor. "Some studios wanted us to lose the fantasy element and make a more straightforward biopic, but that was missing the point," he writes. "I lived in my own head a lot as a kid. And when my career took off, it took off in such a way that it almost didn't seem real to me … There's a moment in Rocketman when I'm playing onstage in the Troubadour club in L.A. and everything in the room starts levitating, me included, and honestly, that's what it felt like."
John writes that his longtime collaborator Bernie Taupin was apprehensive about the film and didn't like the fantasy aspects of it, either. "'But that didn't happen, that's not true' — very Bernie. Then he saw it and completely got it. I don't think he actually burst into tears, but he was incredibly moved by it. He understood the point of it, which was to make something that was like my life: chaotic, funny, mad, horrible, brilliant, and dark. It's obviously not all true, but it's the truth."