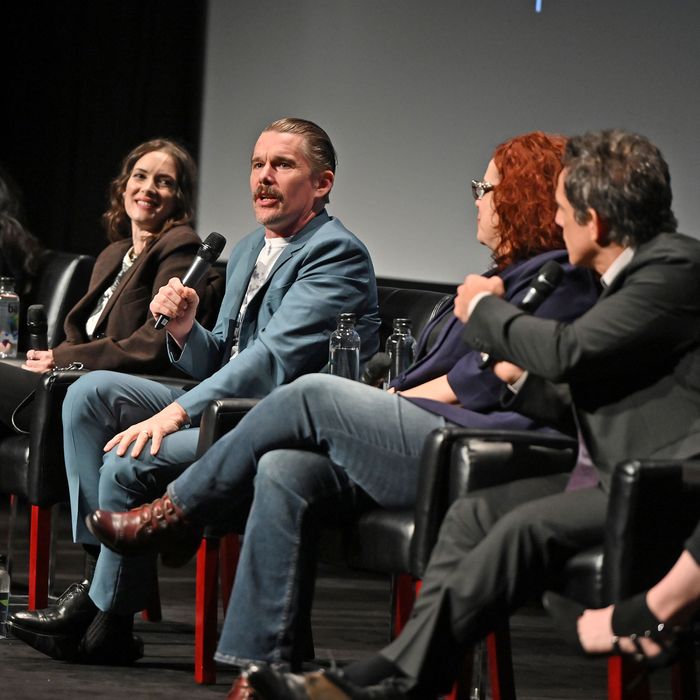 Photo: Theo Wargo/Getty Images for Tribeca Film Festival
If it weren't for Winona Ryder, we'd have no Troy Dyer — at least, not as we know him. Ryder and the rest of the Reality Bites cast reunited at the Tribeca Film Festival this past weekend, where co-star Ethan Hawke credited Ryder with getting him the part of Troy, a college graduate coping with era-specific dissatisfaction in Houston, Texas.
"It really was remarkable how much we all are indebted to Winona using her strength and her power at that moment to caring about another woman's voice," Ethan Hawke said Saturday, referring to the fact that the film was written by a then 24-year-old Helen Childress. "I'm indebted. Winona believed in me. Winona got me this job — this job changed the trajectory of my career entirely."
The film's other co-star-slash-director sat nearby as Hawke recalled how he hesitated to even consider the project before Ryder appealed to him personally. "I was like, Who is Ben Stiller?" Hawke joked. "You just worked with Scorsese and you're gonna work with this clown?"
When Troy Dyer and Reality Bites hit theaters 25 years ago, it was hard to find a review or profile that didn't brand it as a cinematic manifesto for "Generation X" — and Childress as the poet laureate of the flannel people. But, as she explained at the Tribeca event, Childress didn't set out to define a cohort of newly minted adults. "My thought process is, I don't know what the generation is like, but I know what my friends are like," she said. "And they were funny and making bongs out of apples and trying to remember the lyrics to Schoolhouse Rock!, and desperately trying to look like they didn't want anything."
Yet Reality Bites perseveres as a '90s artifact of Gen-X-dom, never mind that its concerns are hardly exclusive to post-Boomers. Michael Medved, of all people, noted as much in his original New York Post review of the movie. "The filmmakers may view the characters' self-pitying poses as the special provenance of the aggrieved members of Generation X," he wrote. "But even aging baby boomers who can remember what it felt like to be 21, with no plausible plans for the future, will instantly identify."
"I think there was a pushback back then," Janeane Garofalo, who played Vickie Miner, explained of the movie's reception back in 1994. "This speaks to authenticity: This is Helen's story. It doesn't represent 'a generation.' It represents those people, who we would say would be between working class and middle class, white, who had the luxury of having those day jobs and things like that. So I understand why there was some pushback, because that is a blanket statement: a generation. A generation is very diverse, with many, many other stories to tell. Helen was speaking her truth, and I felt that was an unfair pressure to put on the movie."
For all the press Reality Bites generated, it opened soft that February of '94. Variety dubbed it "a solid sleeper by virtue of a $6 million Presidents Day weekend gross." The Village Voice's Michael Musto overheard Stiller defending its box office to a member of the press at an event — "The movie did all right. What's your problem? It made 20 fucking million dollars! Cost 11."
"It was a strange sort of neither fish nor fowl situation," Stiller says now, "because it wasn't an independent movie, like Clerks or Spanking the Monkey or Slacker. It was made by Universal Studios, so from the beginning, people were suspect. We went to do a test screening in Berkeley, California, and the Universal logo comes up on the screen, and the audience starts booing. We went to Berkeley because we thought they were gonna be our people, they would get us … But they thought, We don't wanna hear from the Man about being cool."
Ultimately, Reality Bites' "voice of a generation" label may have done it more harm than good; it kept older viewers away, and younger ones, either resentful of its pitching or (just as likely) too broke for the theater, stayed home and kept watching MTV. Nevertheless, the movie would find its audience, as so many youth-oriented movies do, on home video, where it could be recommended, rewatched, and reconfigured ad nauseam. Even younger viewers would rediscover it as a '90s relic, full of references to long-forgotten concepts like the Gap, economic uncertainty, and student loan debt.
"That was a really specific time, the early '90s," Ryder said. "There was a sort of … if you came from the indie thing, it happened with music, too, and then you did something that God forbid did well or sold tickets … I thought it was really clever, and it touched on this idea that we were sort of the Hangover Generation from the excessive '80s."