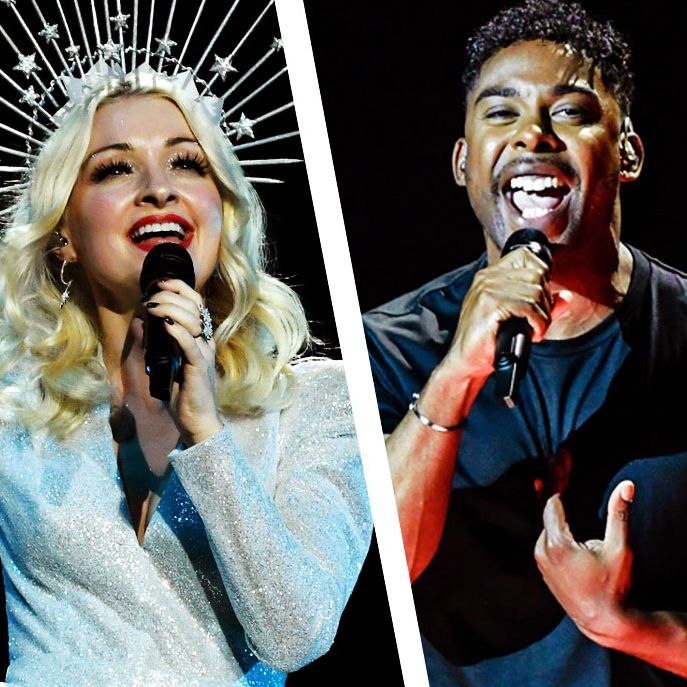 Let the betting odds begin.
Photo: Shutterstock
The No. 1 thing I learned from attending Eurovision last year in Lisbon was that even Europeans love to disrespect the iconic international song contest. Maybe that's why it lives on as a camp spectacle with fraught geopolitical undertones. (In addition to the controversy over Israel hosting, Ukraine pulled out of this year's Eurovision when its singer accused the national broadcaster, UA PBC, of pressuring her to follow a ban on concerts in Russia.) This year's contest, hosted in Tel Aviv — please don't ask me how Israel is considered "Europe"; it just is — has, in fact, already begun airing semifinals throughout the world (and for those of us Stateside who understand VPN; thanks again, Logo!). But however you feel about the proceedings, it's really the songs that deserve the shine. And this year there are some real contenders.
As an American, I am in no place to understand who has an actual chance at winning the crown. It is practically my birthright to choose a favorite and have it come in nearly last place. I've made peace with that, and dug into the predictions of those more worthy — fans, longtime watchers, and most importantly, the online betting world — to see if we can figure out who has a an actual shot.
More realistically, you'll be able to use this as your primer and then find yourself a reliable VPN (or a reliable stream) and tune in to the finals this weekend. We'll start with the collective favorites and then end on my personal favorites. Hopefully within either group you'll find a song to root for.
First, the favorites
The Netherlands: Duncan Laurence, "Arcade"
This weepy ballad by Duncan Laurence is already at the top of many lists. Laurence (who got his start singing Ed Sheeran on Holland's version of The Voice, like so many of our Eurovision contestants) sings, but also helped write the song, which gives it a slightly more authentic feel. (Remember, this contest is really supposed to be about the songwriting!) What I personally love about this entry is that last year the Netherlands came in 18th place with a very different type of song, a country rocker called "Outlaw in 'Em," which I highly recommend you check out, if only to see the severe switch-up between this and last year's entries. It's fun to watch a country completely switch strategies, and this one might just pay off. That said, does Eurovision tend to go for songs that have an actual meaning and/or strong connection to the country they represent? Yes. Does this one? Not particularly. (Lyrical example: "How many pennies in the slot?")
Bonus: Here's Duncan singing "Iris" on The Voice. He didn't win. A girl group named O'G3NE actually won, and went on to represent the Netherlands in the 2017 Eurovision.
Odds: 2:1
Sweden: John Lundvik, "Too Late for Love"
From an American perspective, you'd think that Sweden would sweep this contest every year given all the pop hits its exports regularly churn out for artists overseas. And, indeed, Sweden often does well, winning six times total and appearing in 24 of the top five results, but the last time it came out on top was in 2015, with this inspiring song and its somewhat memorable, Beyoncé-lite performance. Singing this year's entry, John Lundvik, is a singer-songwriter who not only co-wrote "Too Late for Love" but also the U.K.'s entry, "Bigger Than Us." Weirdly, "Bigger Than Us" feels way more like an inspiring Eurovision song than "Too Late for Love," but is ranked way lower in odds because everyone currently hates the U.K. thanks to Brexit. The latter takes an upbeat turn, but suffers from a generic-lyrics problem that is arguably Sweden's heritage.
Bonus: Lundvik is also a medaled runner and composed the song "When You Tell the World You're Mine" for the wedding of the crown princess of Sweden. Okay!
Odds: 4:1
Australia: Kate Miller-Heidke, "Zero Gravity"
Are people into this song, or more so into its flamboyant staging?
Bonus: I saw Australia's entry from last year live during the semifinals and the crowd went nuts. Jessica Mauboy was robbed!
Odds: 8:1
Russia: Sergey Lazarev, "Scream"
Russia is ranked high this year because … I honestly have no idea. This song is slow, boring, overwrought, and totally meaningless. Sergey came in third in 2016's Eurovision with a song called "You Are the Only One," and despite his high odds, there are reports out of Tel Aviv that he doesn't quite have a handle on his highly technical performance, which could be setting us up for a false redemption narrative.
Bonus: t.A.T.u. represented Russia in Eurovision in 2003. They came in third place.
Odds: 9:1
Iceland: Hatari, "Hatrið Mun Sigra"
I'm hoping Iceland's entry, "Hatrið Mun Sigra" or "Hatred Will Prevail," will at least make it to the top ten. However, despite being Eurovision's cool and most interesting entry this year (and certainly Iceland's best entry ever), the song has a lot rooting against it. First, it's being performed by a buzzy BDSM-themed metal band competing in a severely "We Are the World"–inspired, pop-forward competition. Second, the band have repeatedly spoken out against the Israeli government, even while actively competing in Eurovision in Tel Aviv. (The BDS movement has asked them to withdraw.)
"Letting the narrative of the fluffy, peace-loving pop contest go on unchallenged in this context in our view is extremely political," said Hatari's Tryggvi Haraldsson to The Guardian. "Everyone who takes part in this is taking part in a political statement whether they are aware of it or not."
Bonus: Here's their reaction to making the finals:
Odds: 10:1
France: Bilal Hassani, "Roi"
Our second song on this list that's at least partially sung in its country's home tongue. Is "Roi" a particularly good song? Well, it's slow and empowering ("I'm not rich but I'm shining bright / I can't see my kingdom now / When I dream, I am a king"), which seems to be what Eurovision is going for this year. Hassani also happens to be an adorable YouTuber — complete with a sign-on catchphrase ("Bonnnn-soir Pariiiiis!") and a video called "JE RÉPONDS AUX RUMEURS SUR MOI!" that translates to "I RESPOND TO RUMORS ABOUT ME." Okay, maybe we do stan.
Bonus: Here's Hassani singing Austrian Eurovision winner Conchita Wurst's "Rise Like a Phoenix" on France's The Voice Kids in 2015. Okay, that's kind of inspiring.
Odds: 12:1
Azerbaijan: Chingiz, "Truth"
Here's the first song on this list that actually sounds like what Eurovision should sound like. (Again, this is according to me … an American.) A true Euro-flavored banger in the spirit of 2019, "Truth" is written by seven different songwriters and sung by one of them, a Russian-born, Azerbaijan-raised singer named Chingiz Mustafayev. Chingiz got his start on The Voice of Ukraine, and has since performed very traditional-sounding Azerbaijani/Turkish music with a group called Palmas. Thus, his dance-pop Eurovision entry is a bit of a departure.
Bonus: Azerbaijan loves Eurovision so much that it became the country's most-watched television show on Azeri TV, despite being broadcast after midnight (because of the time difference). When the country hosted the show in 2012, it spent more money than any other country ever had, building a brand-new stadium. (Which didn't come without controversy.)
Odds: 12:1
Italy: Mahmood, "Soldi"
"Soldi" (or "Money") has already hit No. 1 on the Italian pop charts, and is a big fan favorite this year. Mahmood originally auditioned for the Italian X Factor but didn't make it too far. He sounds a bit like an Italian-speaking Adam Levine, right? "Soldi" is really catchy, and has a noticeably Moroccan feel (Mahmood is part Egyptian).
Bonus: Alessandro goes by "Mahmood" and not his actual surname (spelled "Mahmoud") because he wants it to resemble "my mood."
Odds: 14:1
Songs that will likely not win, but that you should know about
If you wanna have fun this year, root for one of these underdogs instead.
Greece: Katerine Duska, "Better Love"
Greece's entry is decidedly pop; Duska's voice is incredible and her song is extremely catchy.
Poland: Tulia, "Fire of Love (Pali się)"
Poland didn't make the finals, so you won't see a Polish entry on Saturday, but I love this contribution.
Slovenia: Zala Kralj & Gašper Šantl, "Sebi"
I worried this groovy Slovene track wouldn't have the flashiness to make it further than the semis, but it'll be in the finals.
Cyprus: Tamta, "Replay"
I appreciate that Cyprus entered another tasty banger this year. Its entry last year, "Fuego," honestly should've been the big winner. (Don't come for me, Netta fans!)
San Marino: Serhat, "Say Na Na Na"
San Marino is famous for sending the cheesy (bordering on "Wait, is this a parody?") entries that the song contest is practically known for, but this one is fun! Na na na.
Finland: Darude ft. Sebastian Rejman, "Look Away"
Darude, the very same DJ who gave us "Sandstorm" ten years ago, is in Eurovision. His entry is not good, but it's important that you know what he's up to.