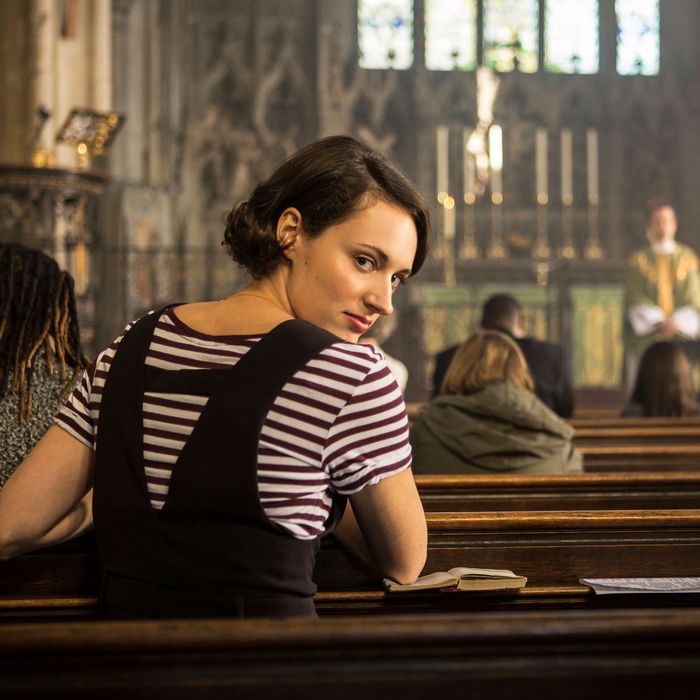 Relationships between sisters don't tend to pack a lot of nuance in media, where they usually operate in two modes: two women as close as best friends, or mostly estranged and living completely different lifestyles. Fleabag's first season upheld the latter banner, relishing the tension between free-spirited Fleabag and uptight Claire, who rarely had kind words for each other and never hugged. (Recall the scene in the pilot where Fleabag stomps on Claire's tender offer to take her for a post-lecture drink, then immediately asks a random woman exiting the theater to do the same.)
But the best of this season's many surprises has been the deepening of the sisters' relationship into a lifelike complexity. We can see that Fleabag and Claire want to be vulnerable with each other, and how their matching headstrong streaks make that impossible. A relationship where they know they won't have the permanent upper hand is the most terrifying thing either can imagine. In her asides to the camera, Fleabag assures viewers she has Claire down cold. But she's humbled every time, ignorant of the jagged iceberg of conflicted emotion that lies beneath Claire's polished surface.
For starters, Fleabag has no clue that Claire is intentionally self-sabotaging her Women in Business award function by hiring Fleabag to dish up canapés. As Fleabag wryly observes to the audience, Claire "loves a crisis"; she's "so happy" when things are in shambles and she can fix them. The more dictates she issues to Fleabag — don't be clever or funny, don't touch this, don't serve that, don't be yourself — the more she knows Fleabag will chafe. The resulting foibles, from Fleabag carelessly shattering the award trophy to serving shellfish to an allergic colleague, are manna to Claire. Demonstrating her competence is her only antidote to her all-consuming anxiety. No wonder she has such a big office.
Sian Clifford's performance as Claire has been underrated by critics, partly because she's the show's straight woman and partly because the role calls for a perpetually dour countenance. But the subtle quality of her work is impossible to ignore here, especially in a pivotal late-episode scene when Claire admits to Fleabag that she never believed Martin about the attempted kiss. She manufactured their year-long rift entirely out of jealousy.
"You'll always be fine. You'll always be interesting with your quirky café and your dead best friend," Claire tells her. "You just make me feel like I've failed." Claire wants the freedom to be like Fleabag, successfully fumbling through what she sees as a charmed life while Claire must carefully plan everything. She has her own petty jealousies and crushes (on a Finnish colleague hilariously named Klare), but she's always had to be the adult in the room. Even the slightest grasp at harnessing Fleabag's wildness, like stealing her office joke about photocopier groping, feels like theft.
Claire's envy is titanic, and if she can't have Fleabag's personal magnetism, then she'll use the talents she does have to ensure Fleabag suffers for it. Fleabag lives in a world of potential best friends, so Claire will refuse to be anything more than her sister.
Claire should know by now that when Fleabag is denied the chance to be vulnerable with her, she tends to explode it all over everything else. This time, she latches on to Claire's coworker Belinda (Kristin Scott Thomas), essentially an older model of Claire that's long ago burned off her quotient of fucks to give.
Thomas shines in her brief appearance, a fantastically well-written tête-à-tête with Fleabag at a bar. Moved by Fleabag's youthful struggles, she tells Fleabag about the good and bad sides of aging as a woman: the cleansing fire of menopause ("You're free, no longer a slave, no longer a machine with parts") and the painful loss of social capital ("No one flirts with you anymore — not really, not with danger.")
Fleabag, who's always had a Sapphic bent, is so overwhelmed by Belinda's wisdom that she tries to kiss her. But Belinda is too old and tired to salve Fleabag's emotional wounds; she's got her own problems to deal with. She encourages Fleabag to go out and make hay while the sexual sun shines, not knowing that she'll respond by showing up on the Priest's doorstep with a bag of canned G & Ts.
The resulting tipsy chat between Fleabag and the Priest is excruciating, as Fleabag's reserve crumbles with each additional drink. She's in full-on manipulative mode, plumbing the depths of the Priest's devotion to see if she can find a crack to worm through. Does he have doubts? Sure, but it's part of the job. What if he finds himself with a crush? He gives them drinks and Bibles until he can convince them to go away, he tells her with a wry smile.
His whole life, the Priest tells Fleabag, he's been beset by foxes, trying to break into his house and even, once, a train compartment. The unspoken implication is that the fox has now assumed Fleabag's form, trying to burrow into his heart. "We're not going to have sex," he quietly, firmly tells Fleabag, as she shoots the camera a heartrending glance of antsy desperation. He's been there many times before becoming a man of the cloth, he tells her, and he knows it won't help.
Fleeing to her fourth-wall comfort zone, friend zoned Fleabag tells the audience that their friendship "won't last a week." But in doing so, she reveals a new wrinkle: The Priest can see Fleabag internally cutting away to the camera, even if he can't hear what she's saying. Fleabag's been loud and clear concerning her doubts about religion. But could her invisible audience be a more powerful one than she realizes?