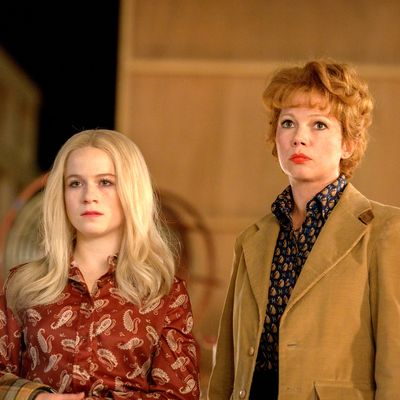 Photo: Michael Parmelee/FX
Take it back, from the same place …
In the work that Bob Fosse really considered his own — in the movies he directed, and in his major Broadway musicals — he had a habit of returning to the same sorts of stories, and the same visual motifs. He was drawn to the seedier side of the entertainment business, and fascinated by controlling impresarios. And he repeatedly depicted libertine sexual situations bordering on the disturbing. He told his life story, in other words … or at least the simplified, psychologically tidy version he insisted was most "real."
Fosse also liked using death as the ultimate dramatic device. Both Lenny and All That Jazz end with startling jump-cuts to their main characters as corpses, flat on their backs, viewed with a cold, almost clinical fascination.
That's how Fosse/Verdon could've ended, too — if not for Gwen Verdon.
The finale of this miniseries, named "Providence" (Nicole Fosse's middle name) begins with a description of how it's going to finish. Paddy Chayefsky — just a couple of years away from death himself — complains that all of Bob's stories are about characters who never change, and reminds his friend that it's possible to give the audience some catharsis without being phony. His suggestion, for the about-to-go-into-production All That Jazz, is that the movie's main character, Joe Gideon (played by Roy Scheider, doing a Fosse impression), should finally realize at the end that that he made a huge mistake by driving away the best woman and partner he's ever had. And then he should die.
That "transformation and tragedy" (to quote Paddy) is how "Providence" ends too, with Bob Fosse collapsing on a sidewalk in Washington, D.C., but with Gwen by his side. No, the couple never got back together — at least romantically. But they were creative co-conspirators again at the end on a hugely successful Sweet Charity revival, and their renewed warmth toward each other meant that Fosse didn't die in a cold, dark, painful way, like his Lenny and Joe both did.
Is this a happy ending? Well, it's happy enough, so long as you're okay with a scoundrel like Bob getting to go out on a high note. And if you're not? Hey, this is what actually happened. Fosse may have fictionalized his own life, but Fosse/Verdon, for the most part, has not.
If I were ranking all the Fosse/Verdon episodes, I'd put "Providence" somewhere in the middle, though I confess it did make me the most emotional. The biggest knock against the finale is that it tries to do too much. Having only gotten as far as Chicago by the end of episode seven, the eighth chapter — even though it runs long — has to pack in more than it really has time for. We get the making of All That Jazz, Nicole's inevitable slide into drug and alcohol abuse, Gwen choosing a Chicago tour over her long-suffering boyfriend Ron, Paddy's funeral, the Sweet Charity revival, and Bob's death. That's a lot.
There are ample highlights throughout, though. An early scene of Bob interviewing Gwen for the "audio verité" segments of All That Jazz offers a fine starting point for the arc of the Fosse/Verdon relationship in this episode. We find out that Gwen and Ann Reinking are keeping up with what's going on in each other's lives more than Gwen and Bob are, and Verdon sums up her take on her ex at one point by saying, "I don't feel much of anything about you anymore, Bob." (He finds this perversely pleasing, because the only thing he likes more than being praised is being insulted.)
Later, Bob and Nicole have a nice moment, improvising a dance together to "Mr. Bojangles." Margaret Qualley gets one more wow scene as Ann too, when Reinking auditions to play "herself" in All That Jazz. Fosse uses their reading as kind of torture, goading her into admitting that she's not saying her lines with the proper emotion because she's pissed that this script is about their — her — private life. (Again, Bob digs this reaction.)
A big cross-cutting sequence between the shooting of All That Jazz's spectacular "Bye Bye Life" number (with Fosse standing in for Scheider, as Joe Gideon is applauded by fantasy versions of his own friends and family) and some dark moments for Gwen and Nicole feel a little forced, although maybe that's just because "Bye Bye Life" stirs up plenty of mixed emotions all on its own. But "Providence" then rebounds for a very strong homestretch, set in the years just after Fosse flopped with his next picture, Star 80.
Last week I suggested (okay, hoped) that the Fosse/Verdon finale might jump back in time again, showing some of the original Sweet Charity production. Director Thomas Kail and credited writers Joel Fields and Steven Levenson do the next best thing, giving us a glimpse of that old Fosse/Verdon magic when she calls him in to help her shape the Sweet Charity revival into something with "heart," that isn't just a cartoonish imitation of their old work. For once, Bob valiantly answers that call, and — in the scene that got to me more than any other in this miniseries — determines that the only way to guide their show's new Charity Hope Valentine to a meaningful performance is to have Gwen show her the steps. For a few minutes, Verdon literally steps back into the spotlight, and delivers an "If My Friends Could See Me Now" for the ages.
Earlier in the episode, Ron complains that Gwen just can't say no to Fosse, when she tells him she's going to put their plans to move west on hold and do the Chicago tour instead. Her reply: "I don't want to say no to this," meaning to Chicago, but also meaning to doing the work that's been most personally rewarding.
Fosse/Verdon had a tough task in capturing the truth of a complicated personal and professional relationship — one which had such a profound impact on popular culture, but which never conformed to our conventional, modern notions of justice and triumph. Showrunners Levenson and Kail brought in their own experiences in the theater, and tried their best to be honest about what really happened, and to dig beneath the complexities of collaboration.
In Gwen Verdon's case, even if Fosse/Verdon couldn't re-create the proper moment of recognition and redemption she never had in real life, the miniseries did a lot to remind people of her contributions to the American theater, and perhaps to explain why she so eagerly made so many bad bargains with Bob. In the show's version of the story — which matches what so many people who worked with Fosse have said over the decades — people liked working with him because he pushed them hard, but talked to them softly. Over and over, his fictional and real life stories ended in death and ruin. But also, over and over, he'd start again and try to perfect the scene with the people he trusted and cared about the most.
Fosse could be callous, and injudicious with his dalliances. But when it mattered, he always called cut, and took everything back to one.
Once more, from the top…
• My first real exposure to the song "If My Friends Could See Me Now" was in Kathie Lee Gifford's 1990s Carnival Cruise commercials, and even today, whenever I hear it, I can't help but sing the modified lyrics my wife and I came up for the jingle: "If they could see me now / Out on a fun ship cruise / I'm eating what I want / And wearing plastic shoes!"
• All That Jazz was nominated for nine Oscars (winning four … none of the biggies) and won the Palme D'or at Cannes. Perhaps more significantly, it was a surprise hit, overcoming widely split reviews and bad publicity about budget overruns to pull in a good-size crowd of mature moviegoers. Perhaps Paddy was right. All Bob had to do was give audiences the big, sentimental "Bye Bye Life" finale and he could go out on a sour note without losing their love.
• It's easy to quibble about what was left out from Fosse/Verdon, but I think Levenson and Kail did a great job of hitting the real high points. (We didn't need to suffer through the making of Star 80, goodness knows.) Still, the brief glimpse of the Dancin' poster in Fosse's apartment did make me wish the miniseries had at least mentioned his post-Chicago Broadway career, even in passing. Dancin' was a revue show, calling back to his early days on the stage, and it became a surprise hit and a Tony winner. Here's a commercial (directed by Fosse himself, as part of his at-the-time-innovative approach to marketing Broadway shows):
Also, just before he died, Fosse realized a dream dating back to the the '60s to make a musical version of the foreign film Big Deal on Madonna Street. The show was a box-office disappointment (especially compared to the contemporaneous Sweet Charity revival), but it was hailed for its innovative, "cinematic" staging, and it won Bob his last Tony.
As for Gwen, the scene in this episode with her agent where he tells her she should be out in Hollywood booking TV guest spots was pretty much a description of how she'd spend the '80s and '90s. Verdon was nominated for an Emmy three times, for guest-starring roles (on Magnum, P.I., Dream On, and Homicide: Life on the Street). She appeared in a number of movies, too, including The Cotton Club, Cocoon, and Alice.
• Gang, it's been such a joy to watch this miniseries and write these reviews, if only for the opportunity every week to dig through the archives of Broadway ephemera. I leave you when Gwen and Chita, dancing the "Hot Honey Rag" so scorchingly that they melted the videotape.