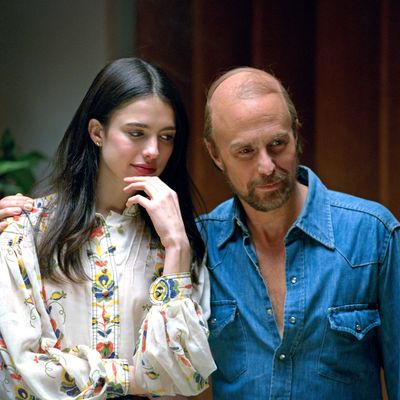 Photo: Michael Parmelee/FX
It's no coincidence that the two special guest stars in this week's Fosse/Verdon are Paddy Chayefsky (played by Norbert Leo Butz) and Neil Simon (played by Nate Corddry). It's not just that these two writers were among Bob Fosse and Gwen Verdon's closest friends; they were also responsible for helping to change the vernacular of the American theater by finding a fruitful overlap between the stage and television. Simon's smash-hit Broadway comedies contextualized '60s and '70s middle-class neuroses in the voice of a top TV gag writer. Meanwhile, Chayefsky's live television plays made stern social drama punchy enough for Middle America. Both men understood how to say something resonant about their times in stripped-down, stage-bound, character-driven stories sprinkled liberally with quotable dialogue.
In other words: Either one of them could've written something like this week's Fosse/Verdon episode. And then they might've called in their buddy Bob to add "the flash."
"Where Am I Going?" is named for a Sweet Charity number that Simon's late wife Joanie loved and that Verdon sings before the end of the hour. Joan Simon's absence haunts this episode, which takes place almost entirely over the course of two days at a Southampton beach house in the late summer of 1973, seven weeks after Joan's death and three months after Fosse was discharged from a sanitarium.
In terms of the miniseries' larger narrative, this chapter is an efficient interlude/reset, properly introducing Ann Reinking (Margaret Qualley) as Fosse's new best gal, while also setting up — via some contentious back-and-forth — the themes and creative pitfalls that he's about to grapple with when he tries to make the movie Lenny and prep the musical Chicago simultaneously.
This is also a story about how Verdon exerts her power at a party dominated by dudes. Paddy and Neil and Bob — and even Gwen's new beau, Ron (Jake Lacy) — spend the weekend swapping stories and trading barbs, delivering pronouncements to each other on everything from public morals to comedy. Without the force of nature that was Joan Simon by her side, Verdon drafts Reinking as an ally. For the most part, though, Verdon's on her own, working hard to persuade Bob to do whatever Lola wants … while making him think he's getting his own way.
What's great about this little one-act teleplay (directed by Thomas Kail and written by Charlotte Stoudt) is that both sides in this contest of wills know the other's tricks. At different points in the episode, Fosse and Verdon refer to each other as "putting on a show" in describing how they're secretly controlling the flow of the party by playing certain emotional beats against backdrops they've carefully chosen. Yet the outcome was always inevitable. Bob wanted to make his Lenny Bruce movie with Dustin Hoffman; Gwen wanted him to direct her in Chicago. Nobody wanted Bob — recently institutionalized for exhaustion and depression — to attempt both. He would, as we know, do both anyway.
As the title cards remind us at the end of the hour, he'll have a near-fatal heart attack in the process.
While revealing more about the glorious and insidious sides of the Fosse-Verdon dynamic, "Where Am I Going?" makes cases for and against Lenny and Chicago. Fosse makes some of the best arguments against his dream project (and not just because, as an eternal pessimist, he's already sure it'll flop). Even while talking up Lenny, he admits he never found Bruce to be that funny as a comedian. He says he's really just drawn to the idea of the stubborn iconoclast living his life and doing his work in the kinds of seedy dives where Fosse himself played as a teen.
Fosse insists this story will be "relevant" to American life in the Watergate era, but Verdon correctly counters that he said everything in Lenny already in Cabaret and that he's just making another monument to himself. She (again correctly) contends that Chicago has more to say about Nixonian politics and power and "what happens when no one cares about the truth." She understands that the real downside to Chicago for Fosse is that it would be a shared triumph.
Watching these two separated spouses give each other the needle is way more entertaining than it ought to be. When Fosse notes that their daughter, Nicole, gets along really well with Reinking, Verdon cracks, "Of course she does. They're the same age." (To which he responds, "How's Ron enjoying junior high?" "He's excelling," Verdon says with a smile, not missing a beat.) When Fosse starts getting pumped about Lenny, she deflates him, asking, "Who's writing the musical numbers?" Finally, she pulls out her trump card to get him to commit to Chicago: She can always ask Hal Prince to do it. Hey, he's on a hot streak with all those Tony-winning Sondheim musicals. (And if he had a hit with a Kander/Ebb/Verdon show? Maybe the press would start wondering whether Fosse was the real genius behind Cabaret or Sweet Charity.)
As I mentioned last week, by emphasizing the more devious side of Verdon, this miniseries makes her even more sympathetic (in my eyes, at least). Yes, it's somewhat cruel of her to push a convalescing Fosse to get back to work — provided that it's on Chicago — and yes, it's a little mercenary of her to tell Reinking she has to keep Fosse alive so he can gift her with timeless Broadway characters like Lola, Charity, and Roxie. But it's also poignant when she admits to Fosse that she doesn't want him to delay Chicago, because he could drop dead any day … or she could lose the youthful stamina she needs to dance the show.
"Where Am I Going?" casts a kinder eye than usual on Fosse, noting the difference between the way he presents himself to his friends and what's going on beneath the surface. He quips that he checked himself out of the sanitarium because "I knew it was time to leave when I started putting on shows with the other patients!" He repeats the joke multiple times, turning one of the worst experiences of his life into a slick one-liner. Later, after Neil Simon describes his first sexual experience with a prostitute, Fosse tells a wink-wink story about the strippers who "conversed" with him during his burlesque days, though the stricken look on his face when he remembers the incident later indicates that what actually happened was more like a sexual assault.
These are complicated emotions and motivations, conveyed mostly in conversation and reaction and packaged as entertainment. This episode is TV-as-theater and theater-as-TV in the spirit of Chayefsky and Simon and Fosse, all of whom understood that, when it comes to selling audiences the darker side of human experience, staging means everything.
Once more, from the top …
• As alluded to in this episode, Chayefsky in 1973 was just a few years away from seeing his screenplay for the 1976 movie Network hailed as the quintessential media satire. He would win an Oscar for the script in 1977, and when he was invited back a year later as a presenter, he was responsible for one of the most memorable moments in Academy Awards history: chastising Vanessa Redgrave for her politically charged acceptance speech. Butz's brusque, argumentative portrayal should be familiar to anyone who's seen that Oscar clip. And Simon is in the audience during the segment! He was a nominee at the 1978 ceremony for The Goodbye Girl, which starred his second wife, Marsha Mason, whom he married in 1973, not long after Joan's death.
• As a child of the 1970s, I have to admit the scene of Nicole pouring (and sipping) beer didn't alarm me. Instead, it took me back to my parents' own dinner parties, where I slurped my share of foam while carrying glasses in from the kitchen.
• As near as I can tell from my research and memory, Lacy's "Ron" isn't a real person. In the mid-1970s, Verdon's most public male companion was Jerry Lanning, an enduring Broadway player and occasional TV actor who was 18 years younger than she. The son of torch singer Roberta Sherwood, Lanning is probably best known for his one-off Dick Van Dyke Show appearance as the aspiring rocker behind the novelty dance song "The Twizzle." But he also played Joe Hardy in a 1967 TV adaptation of Damn Yankees! and later played the same role opposite Verdon (and Ray Walston!) in a summer tour. Lanning is still alive and occasionally still works, although he passed out onstage playing Eugene O'Neill in a Westchester County playhouse six years ago.
• The 46th Street Theatre that Gwen refers to — the former home of her Tony-winning Damn Yankees and Redhead and the future home of her original Chicago as well as Reinking's Tony-winning 1996 revival — is now known as the Richard Rodgers Theatre. It has also been home to the original Good News, the original Guys and Dolls, the Fosse-aided How to Succeed in Business Without Really Trying, Neil Simon's Lost in Yonkers, and its current and highest-grossing occupant, Hamilton.
• Michelle Williams is especially magnificent as Verdon in this episode — from the opening montage, when she slyly reassures her Chicago collaborators that the sanitarium-bound Fosse is "100 percent committed" (technically true!), to a scene in the wee hours when she casually removes and shakes out her ponytail extension. Like Bob says: Gwen puts on a show.