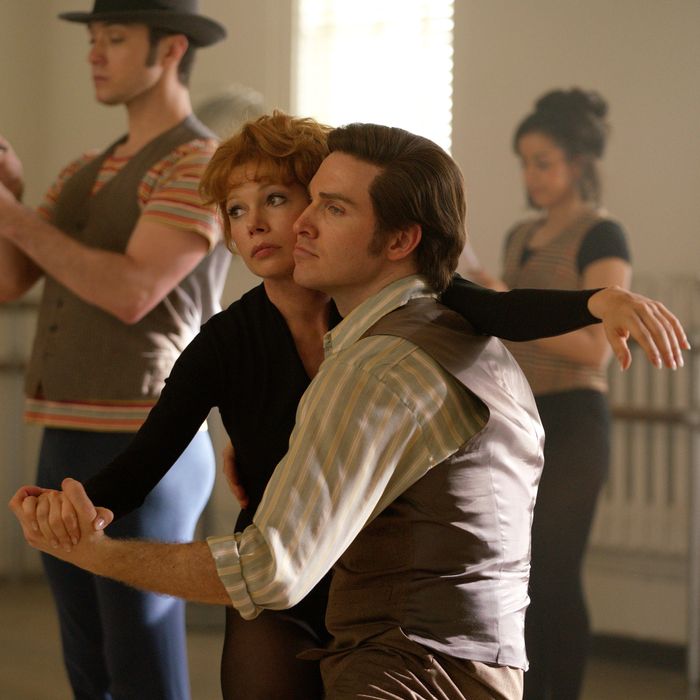 The myth of the musical Chicago is that it was unappreciated in its time: dismissed by critics and audiences as bloodlessly cynical, bypassed by Tony voters in favor of the more crowd-pleasing A Chorus Line, and not properly rediscovered until Ann Reinking and director Walter Bobbie brought a more minimalist version to Broadway in 1996, in an era more receptive to celebrity trials and tabloid television. That's all true … to a point. The major early Chicago reviews weren't raves, but they weren't pans, either; and while the box office wasn't boffo (at first, anyway), the original production ran for nearly 1,000 performances, followed a couple of years later by a London production that ran for 600. The mid-'90s Chicago revival made the show canonical, but the '70s version was hardly a flop.
Throughout Fosse/Verdon, the core creative team of Steven Levenson and Thomas Kail have tried to be honest about how things really were with these two Broadway legends. Levenson and Kail aren't debunking myths, exactly, but they are trying to see them from multiple perspectives, respecting the complexity of the creative process and the nebulousness of human relationships.
That's what makes this week's "Nowadays" the best episode of the series so far. In telling the story of Chicago's difficult birthing process, Levenson and Kail (with credited co-writer Joel Fields) look mostly through the eyes of Gwen Verdon, who got to see her dream project shepherded to the stage by her director-choreographer of choice, Bob Fosse, but then along the way paid a price for making a deal with that particular devil … maybe a worse one than anything Joe Boyd faced in Damn Yankees.
In last week's recap, I wrote that I was hoping Fosse/Verdon wouldn't skimp on the details of how Chicago came to life through a combination of odd circumstances and the usual Fosse fussiness. I have no complaints with what Kail/Levenson/Fields chose to include here — most of which is covered in Sam Wasson's biography Fosse and pretty much all of which is on point.
Yes, Fosse really did coach the Chicago dancers to "take out the swing" (so to speak), making their movements more mechanical and less flashy. Yes, Verdon struggled to build up the stamina necessary to dance the show even after Fosse slowed down the steps and introduced props to lean on. Yes, there was a big, awkwardly emotional public standoff over "Nowadays," the closing number added in previews, which Gwen wanted for herself — to cement Roxie Hart as Chicago's main character — but that Bob wanted her to split with Chita Rivera's Velma Kelly.
The "Nowadays" blowup is the closest this episode comes to getting heavy-handed, although again, a lot of what happens in the TV version comes straight from Wasson's book (with some embellishments and/or changes for dramatic effect). Gwen essentially lays out 20 years of beefs with Bob, reminding him that she approved him for Damn Yankees, and she fought for him to direct Redhead, and she helped him get Cabaret across the finish line, and she kept him and the production of Chicago alive after his heart attack. She thinks he owes her his career — which is also sort of true. Fosse had already won a Tony before they collaborated for the first time, and he already had a Hollywood contract. But Verdon definitely connected him to the right people and goaded him to his best work.
What keeps Gwen's "reading of the grievances" from being too much of a "here's the whole point of this miniseries" moment is how it's played. I've been raving for weeks now about how Michelle Williams is portraying Gwen as a human being, not an icon. She's someone who can be petty and conniving — albeit for understandable reasons. When Gwen stands up to Bob, it's a courageous moment but not necessarily a triumphant one. As much as she talks about wanting to protect Chicago to secure Nicole's future, it's pretty clear that her intentions are also self-serving. She wants to star in another hit. (And who can blame her?)
And there's something else notable about Williams's rich, deep performance. Here's a fun fact, delivered to Vulture directly by the publicists at FX, who reached out to the actress's team: She didn't use a vocal coach for this episode. All that business with Gwen losing her voice after an incident with a rogue confetti cannon — all true, by the way — is brought to life by Williams's own remarkable vocal instrument, from the hoarse croaks when she's convalescing at home, to the supple croon when she returns to the theater.
When Gwen returned, she was replacing Liza Minnelli, who had filled in for five weeks with no advance billing and turned Chicago into the hottest ticket on Broadway. Minnelli arguably saved the show, sparking enough interest — including among some critics, who gave it a second, more favorable look — to keep it running for two years. "Nowadays" smartly positions this weird turn of events as the central irony of Gwen's Chicago experience. At first, she thinks Bob called in a favor from Liza as an act of love and loyalty; then, when the press starts raving and the box office starts rising, she thinks he made the switch to reclaim the show as his creation, one no longer weighed down by an over-the-hill star.
Sam Rockwell brilliantly plays the ambiguity of these moments, from the changes to the closing song to the Liza switcheroo. His Fosse never blows his stack when Verdon's challenging him. He just calmly shrugs that he's doing what's best for the show — all while flashing a little smile that's all the more infuriating because he's proven right. Yet Rockwell's Fosse never looks more in love with Williams's Verdon than when she's hollering at him. This is one of Fosse's defining character traits: He just wanted people to be affected by him, even negatively.
Ultimately, though, this episode is all about Verdon's burden, extending all the way through the flashbacks to the early '60s, when the couple first got married and then struggled to get pregnant. In a darkly funny scene with an obstetrician, the doctor delivers the bad news that Bob's sperm lacks motility and that Gwen will need to endure a series of invasive gynecological procedures and painful shots to increase her chances of conceiving with him.
You want to know what Fosse/Verdon really has to say about the dynamic between the two title characters? It's all there in that sequence. There's something wrong with Bob. Gwen, you've got work to do.
Once more, from the top …
• Hat tip to Vulture's Jackson McHenry for the Michelle Williams "no vocal coach" scoop.
• Between the cartons of sesame chicken and the piled-high plates of deli sandwiches, I'm almost always hungry by the time I get to the end of a Fosse/Verdon episode.
• I know this show is called Fosse/Verdon, not Fosse/Verdon/Reinking, but Margaret Qualley has such a striking presence with her casually limber poses — all lanky-framed and bendy-legged — that I wouldn't mind a sequel. Bring on Verdon/Reinking!
• I love that this miniseries avoids the showbiz-melodrama cliché of catty, competitive women. Chita supports Gwen. Liza leaves a nice note in Gwen's dressing room. Joan McCracken gives Verdon advice, and Verdon does the same for Reinking. They're all practically in a sorority. Just listen to the way Gwen answers Ann when she asks where Bob is: "He had to go finish some work at the studio … he said." Both of them have lived with Fosse long enough to know what "he said" really means.
• One last note on Reinking: When Gwen drops Nicole off at Ann's apartment, she wishes her luck at the Tonys. She's likely referring to Goodtime Charley, a historical musical comedy about King Charles VII (played by Joel Grey) and Joan of Arc (played by Reinking). Ann was nominated for that show but lost to Angela Lansbury's Mama Rose in a Gypsy revival. (Their competition? Bernadette Peters and Lola Falana.) But I'm more fascinated by the show that preceded it for Ann: Over Here!, a WWII home-front musical comedy with a score by Walt Disney favorites Robert and Richard Sherman. The original cast included Reinking, Treat Williams, Marilu Henner, and John Travolta. Would travel back in time for!
• It's possible that this might make it into next week's finale, but when Bob pokes at Paddy Chayefsky by pledging to do a wordless tap-dance at his funeral? He actually did.
• What do we think will be covered in the finale? My guess: a heavy focus on the original production of Sweet Charity, which was Gwen's comeback after taking time off to raise a baby and was reportedly the closest, most passionate creative collaboration between Fosse and Verdon (aside from Nicole). That was also the show being revived in the '80s when Bob died … as seen way back in episode one.