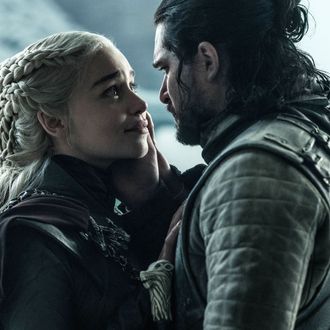 Hold the door: Sunday's Game of Thrones series finale has already been seen by 19.3 million viewers, per data released by HBO on Monday afternoon. That's the biggest same-day audience ever for the show, surpassing the previous record audience of 18.4 million viewers set just a week ago. HBO says the initial 9 p.m. linear telecast of "The Iron Throne" was seen by 13.6 million viewers, while same-day streaming and an encore linear broadcast lifted the show to that 19.3 million overall total.
As for where the GOT finale ranks compared to other HBO finales and other series swan songs, well … it's complicated. Historically, networks (and journalists) have used Nielsen same-day viewing data for initial telecasts when talking about milestone episodes, including series finales. So while the 19.4 million viewer figure issued by HBO is a legit measure of who's watched so far, for historical comparisons, it's better to just look at the 13.6 million linear figure. Using that benchmark, "The Iron Throne" fell short of last Thursday's series finale of The Big Bang Theory, which drew 18.5 million with its initial linear premiere (no encores or streaming included). In terms of other HBO series, the Thrones finale easily beat the linear same-day audience for The Sopranos, which faded to black in June 2007 with 11.9 million viewers. It also just beat the 2002 season-four premiere of The Sopranos, which averaged 13.4 million viewers and until now had been the most-watched episode (in linear ratings) of any HBO series. (One caveat: There are more people in the U.S. today than in 2002, and far more HBO subscribers, so in relative terms, Sopranos is still a tad bigger.)
Even before Sunday's telecast, the final season of GOT was already assured of going down as the show's most-watched, by virtually any metric. In terms of same-day numbers, each installment this season has reached more viewers than the similar episode from 2017's season seven, with an average same-day tune-in in excess of 17 million viewers. (This stands whether you look just at the linear tune-in for the premiere telecast, or the slightly bigger number issued by HBO, which includes audience for the premiere, the same-night rerun, and same-day streaming stats provided by HBO.) Using that latter figure, here are how many viewers each of this season's previous episodes averaged the first night they aired:
• Episode one, "Winterfell": 17.4 million
• Episode two, "A Knight of the Seven Kingdoms": 15.9 million
• Episode three, "The Long Night": 17.8 million
• Episode four, "The Last of the Starks": 17.2 million
• Episode five, "The Bells": 18.4 million
Want even more numbers? HBO and other subscription-based cable/streaming networks also report cumulative viewership, a tally that includes viewers who watch any of the network's linear runs of the show (both the Sunday premiere and various encores), as well as DVR replays, video-on-demand views, and streaming plays that occur up to a month after an initial telecast. By this metric, GOT is also assured of breaking its own previous record: So far this season, HBO says the show is averaging a cumulative audience of 44 million viewers per episode. That's up more than 10 million viewers versus the previous record of roughly 33 million cume viewers, set back in season seven. HBO will likely offer a final estimate for GOT's season-eight gross audience sometime in June. It wouldn't be at all shocking if that number passes 45 million.
This post has been updated throughout.