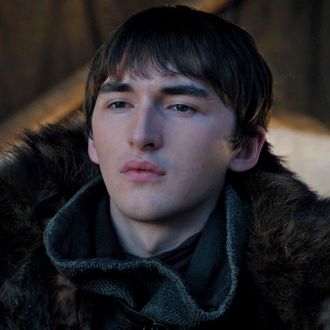 Isaac Hempstead Wright.
Photo: HBO
If you thought, What?! when Bran Stark was crowned lord protector of the Seven Kingdoms in last night's Game of Thrones, you're in good company. So did Isaac Hempstead Wright. When the actor first read the finale script and learned of his ascendence to the … not Iron Throne … he told Entertainment Weekly, "When I got to the [Dragonpit scene] in the last episode and they're like, 'What about Bran?' I had to get up and pace around the room," he told the magazine during a set visit last year. "I genuinely thought it was a joke script and that [showrunners David Benioff and Dan Weiss] sent to everyone a script with their own character ends up on the Iron Throne. 'Yeah, good one guys. Oh shit, it's actually real?'"
Yes. Weirdo Bran Stark, Bran the Broken, Bran the indifferent warg is now king, and Benioff and Weiss were totally serious about it. Since learning his fate, Hempstead Wright has had to keep the secret buried deep, but he admitted to EW what his internal reaction was. "I just want to shout: 'King motherfuckers!'" the actor said last year. "Though that's probably not a wise plan, obviously." That would have been a pretty sweet ending, so it's too bad no one worked it into the final shooting script.