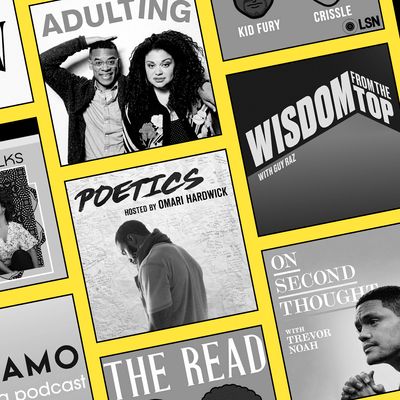 Photo: Courtesy of Luminary
Neon is the new black, metal is the new plastic, and podcasts are the new feature films. With the volume of podcast choices, where you dedicate your ears isn't always an easy decision, and mistakes can happen. (Major key: you are what you listen to.)
When it comes to podcast variety and creativity, the sky's the limit. Luminary, the new premium podcast platform featuring top show talent and personalized recommendations based on your listening preferences, helps you keep up with all the best content. For tips on where to start listening, we asked Glory Edim, founder of the book club, online community, and literary festival Well-Read Black Girl, about her favorite podcasts on Luminary. Read on for her recos.
Stoop
Talks
by
Hana
Baba
and
Leila
Day
Baba and Day are the perfect interview duo. They explore the Black Diaspora and ask their guests to define what blackness means to them. Witty conversations with guests like Kerry James Marshall and Karamo Brown display their dynamic range and curiosity.
Adulting
With
Michelle
Buteau
and
Jordan
Carlos
Buteau and Carlos help us navigate the path of growing up, with guests like Phoebe Robinson and Jim Gaffigan sharing how they accomplish mundane, yet oh so necessary, tasks. Listening to this will fulfill the prerequisite for adulthood.
If you don't have time to wade through every pivotal historical event, add Fiasco to your lineup. Neyfakh is a charismatic storyteller and historian who takes us back to the Bush v. Gore election and the legal battle that followed.
Hear
to
Slay
by
Roxane
Gay
and
Dr.
Tressie
McMillan
Cottom
Hear to Slay is the Black feminist podcast every person needs to hear. Gay and Cottom offer us gems that will surely live forever in a group text. I'm excited to take notes on whatever they discuss from politics and money to love and culture.
On
Second
Thought:
The
Trevor
Noah
Podcast
I will always love Trevor Noah's thoughtful, insightful perspective on the world. He's open-hearted and challenges us to investigate our lives with compassion. Oh, and he's hilarious. TBH, I may have fallen in love with him while listening.
The
Read
by
Loud
Speakers
Network
Kid Fury and Crissle are undefeated podcast OGs. They cover hip-hop and pop culture's most trying stars every week. (Confession: I live for their unfiltered and hilarious commentary on Kanye West.)
Everyone's beloved culture expert, Karamo Brown, is truly my favorite person. His one-of-a-kind podcast invites listeners to have healing conversations for an affirming life. You'll laugh and you'll cry. He's your new best friend, for sure.
Poetics
With
Omari
Hardwick
Omari Hardwick is a man of many talents — an actor, poet, filmmaker, and now a podcast host! Hardwick invites his guests to share an original poem or verse and its significance. It's an eye-opening, and dare I say, poetic, experience.
Wisdom
From
the
Top
With
Guy
Raz
Guy Raz is required listening for every person with an entrepreneurial dream. If you need advice on leadership, he's your guy. You'll learn what motivates and inspires leaders to be the best.
This is paid content produced for an advertiser by New York Stories. The editorial staff of Vulture did not play a role in its creation.