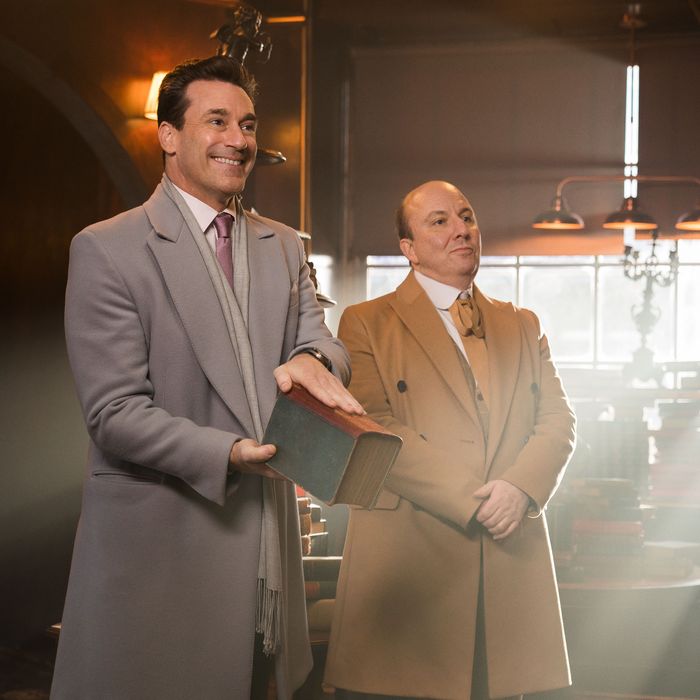 Photo: Chris Raphael/Amazon Studios
You might have thought the first episode of Good Omens laid out the basic setup of the miniseries: a mix-up involving an infant Antichrist, an angel and a demon conspiring to prevent the end of the world, a hellhound, etc. But the second episode of Good Omens reveals that many more players will have a part in this end-times comedy of errors, including the descendants of witches, witchfinders, the Four Horsemen of the Apocalypse, and one landlady who offers an array of services to those who walk through her doors. Also taking a central role: a book, namely, The Nice and Accurate Prophecies of Agnes Nutter, Witch, an extensive and highly accurate collection of prophecies written in the 17th century by Agnes Nutter (Josie Lawrence), who, as the book's title suggests, was a witch.
Not a great time to be a witch in England, the 17th century, what with officially appointed witchfinders scouring the countryside looking for practitioners of the dark arts. Of course, Agnes, being a highly gifted soothsayer, knows her personal end is near and takes steps to make sure she won't go down quietly. We meet her preparing for her inevitable fiery fate, one she'll meet with gunpowder and nails tucked into her garments, taking out those determined to persecute her as she goes. But even in death, Agnes's legacy lives on through her book, which has gotten passed down to her multiply-great-granddaughter Anathema (played as an adult by Adria Arjona), an American who's grown up in the midst of wealth and privilege thanks to her ancestors' following advice like "In December 1980, an apple will arise that no one can eat" and putting a lot of money in Apple stock.
Money can't buy everything, however, which sends Anathema to England in order to "hunt down the heart of darkness" and do what she can to prevent the end of the world. She's good at her job, too, or at least good enough to wind up in the same bucolic village as Adam (Sam Taylor Buck). What she can't do, apparently, is recognize the Antichrist when she sees him. She meets Adam and his friends (collectively "the Them") in the woods, and neither party is particularly impressed. Even the fact that Adam and the Them are playacting a witch hunt doesn't set off any alarms. Instead, she keeps combing the woods, getting into a bike accident by running into a car containing Crowley and Aziraphale, and losing the only copy of Agnes's book, which ends up in the hands of Aziraphale. At least, as a collector and appreciator of rare books, he knows what's come into his possession. What he might not know, however, is how much trouble it can cause.
But that's a problem for another episode. This installment has plenty of trouble of its own. We meet War, the first of the Four Horsemen of the Apocalypse, though "horseman" might be a misnomer given that War shows up in the form of a female war correspondent played with a malevolent glint by Mireille Enos (The Killing, Hanna). She gets there just in time to disrupt the signing of a peace treaty, and while War doesn't get that much to do here, chances look good that she'll have plenty to keep her busy in the future when her three companions make appearances.
Agnes, Anathema, and War are not the only new characters introduced this week. We also meet Witchfinder Sergeant Shadwell (Michael McKean), a man committed to keeping the witchfinder tradition alive who spends his days standing in the streets warning against the threat of witches with a sign telling others how to spot them. ("Too many nipples" is one tip-off, but witches also give their cats "funny names.") In Newton Pulsifer (Jack Whitehall), Shadwell meets a young man surprisingly keen on learning what he's on about. Newton has his reasons. He's the descendant of the witchfinder who put Agnes to death, and his background seems to have helped make him something of a misfit in the 21st century. Computers don't respond well to his touch, and, perhaps because of his Puritan ancestry, he seems especially embarrassed when Shadwell's landlady Madame Tracy (Miranda Richardson, having a lot of fun) offers her services first as a medium and then as the provider of "intimate personal relaxation and stress release for the discerning gentleman."
There's a lot going on here, in other words, so much that Crowley and Aziraphale sometimes seem a bit sidelined until the homestretch, when they search what was once the satanic convent for clues to the real Antichrist's location. They don't get any closer, at least as best they can tell. Then, in the final moments, Aziraphale uses Agnes's book to discover he's just a phone call away from contacting the kid who might end up destroying the world. Surely it can't be that simple, he asks himself? Yet, a few spins of the rotary dial later, he's called Adam's house. "Sorry," he tells Adam's father, "right number," then hangs up wondering if he's pushed the world closer to the end or pulled it back from the edge, and letting us wonder the same.
Welcome to the End Times
• The crowded episode still gives both Tennant and Sheen some delightfully comic moments. The opening scenes find Aziraphale doing his best to make a visit from Gabriel less awkward to the other patrons of his rare bookshop. Gabriel, however, doesn't help. "I am buying pornography," Gabriel joyously tells his fellow patrons as Jon Hamm draws on his considerable ability to play clueless dopes. With any luck, Sheen and Hamm will end up in more projects together. They're a lot of fun here. But the funniest moment belongs to Tennant in a scene that reveals the fear and intimidation he uses to cultivate houseplants.
• There's a famous Anton Chekhov quote: "If you have a Thundergun of Witchfinder Colonel Dalrymple hanging on a wall in the second episode of a miniseries, it will be fired before the final episode. Otherwise it shouldn't be there at all."
• Nice to see Sister Loquacious hasn't let her complete incompetence keep her from finding employment.