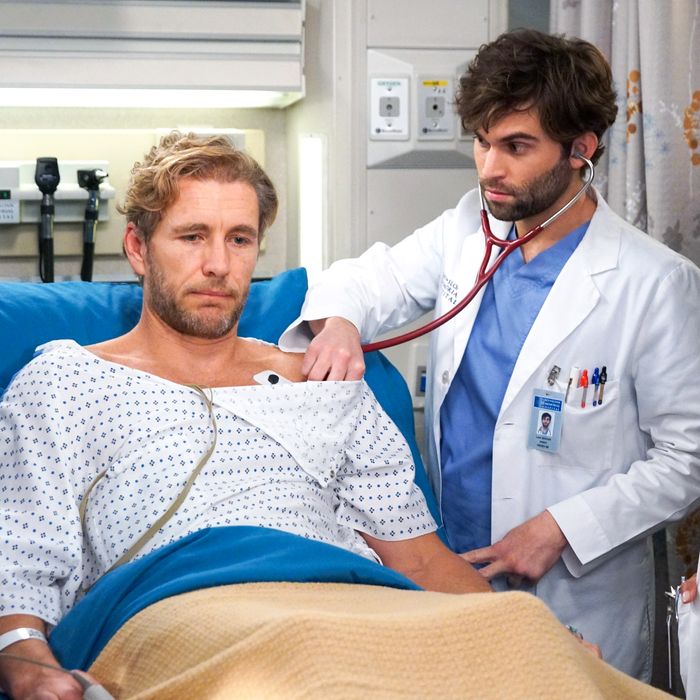 Photo: Scott Everett White/ABC
Welcome to the big Grey's Anatomy–Station 19 crossover event! Although, I fear this event is a bit lackluster if you don't watch Station 19, because if that's the case, the "crossover" portions of the evening probably mean very little to you. Not like you need to know about our resident firefighters to understand what's going on, but since I follow a strict diet of Shondaland (except for How to Get Away With Murder because, like, I can't with all the murdering), I will fill in some blanks.
Schmitt rolls into the Grey Sloan ambulance bay with a "John Doe" who passed out in front of the florist where Schmitt was trying to buy Nico some "I'm sorry you killed a guy" flowers. But as Schmitt is deciding if he's a hero or not, Bailey is like, "Uh, this is Lucas Ripley and he's the chief of the Seattle Fire Department." Okay, so Schmitt is really a hero.
If you don't watch Station 19, you have never met Lucas Ripley. If you do, then YOU KNOW. Ripley is a magical human person in a magical relationship with fellow magical human Vic Hughes. Better known as Vicley. We love them deeply. The catch here is that Ripley is the chief and Vic is a peasant firefighter, which I think is a technical term, and they've been dating in secret. They joked that if they got married they could love out in the open, and then Ripley ran into a terrible fire and when he came out alive, Vic was like, "I want you, I need you, oh baby, oh baby," but not in a sarcastic way. She proposed to him! He did not answer. The next morning, on his way to tell her his answer — yes, yes, one thousand times yes — he stops at a florist, and now here we are in the ER at Grey Sloan. Such is the ballad of Vicley. Hopefully that explains why Ben and Andy are so shocked to learn that their friend Vic has been dating THE CHIEF in secret. It's also why, despite Maggie Pierce telling him he has a very serious heart condition and she needs to run, like, a whole host of tests, Ripley wants to get the hell out of Grey Sloan and tell Vic — WHO REALLY SHOULD ANSWER HER PHONE — he loves her.
But this hour is less about Vicley and more about how Ripley's situation relates to Maggie's current romance debacle. Remember how Jackson asked her to move in with him? She still hasn't given him an answer. When Maggie explains her situation to her patient, he asks two questions: Is she dating a troll? Does he live in a dump? Now do you see why we cherish Ripley so? It dawns on Maggie that she just needed time to process — she's a rational being and that doesn't mean she loves Jackson less than he loves her. She needs to tell him that. Ripley's like, "Go to him!" And so she does.
Jackson and Maggie share a nice scene where she tells him he needs to accept her weird scientist brain and he's onboard, but also he will push her to do things out of her comfort zone, like camping, because that's what couples do. And of course she'll move in with him. Hello, have you seen his apartment? And hello, have you seen his face?
Maggie's ending the day on a win … until she gets Ripley's test results back and realizes that some of his strange symptoms are not from his heart condition at all, but instead it looks like he was exposed to some deadly toxin in that fire. She needs to treat him immediately, only when she goes to his room to tell him this, he's gone. He's off to find Vic, who is still not answering her phone. Alas, the fate of Ripley and Vic is left for Station 19. We have some other business to attend to on Grey's.
You know, like how Meredith is committing insurance fraud in order to save a little girl's life. THAT OLD HAT.
Luis has been in the country for a year and is seeking asylum. After getting a job and making some money, he had his family come to join him, but they were detained and separated at the border, and now Luis is left with one of his kids, Gabby. She has an abdominal obstruction, which they soon discover is a mass that needs to be surgically removed. Luis does have a job as a janitor, but he doesn't have insurance. He also, they discover, makes too much to qualify for a state policy. Basically, the system is broken and people like Luis and Gabby are the ones who pay for it, and Meredith Grey, hero to all, is like "not today Satan," and vows to take care of Gabby's surgery.
By "take care of" she means she's going to put her daughter Ellis's information on all the forms and pretend she's the one getting surgery. Grey Sloan has an excellent health-insurance plan. Alex and DeLuca go along with it, but you know who finds out about it and isn't too pleased? Richard Webber.
After Gabby's surgery — during which they discover she has non-Hodgkin's lymphoma, meaning more hospital bills and everything is a mess — Webber has words for Meredith. Words like, "Honestly, Meredith, insurance fraud?!" which I, as a longtime viewer, found very amusing. Just add it to the list of rules Meredith has broken and things Webber has no control over. After much deliberation, Richard knows he's not going to turn Meredith in, and instead offers a solution: If they come up with some ways to keep Gabby in the hospital for 30 consecutive days, a new state policy will automatically kick in, giving Luis insurance. It's still lying, but Richard doesn't want Luis to get deported, nor does he want Meredith to go to prison. In conclusion, the whole insurance system is insane.
The entire time, Meredith has been worried that DeLuca disapproves of her lying, but it turns out that he does not. In fact, he approves. He approves a lot. He tells her he's in awe of her. He tells her he loves her. I don't know, you guys, there must be something in those Ellis Grey genes that causes a girl to run in the opposite direction when a handsome man makes a romantic declaration because Meredith cannot leave the room fast enough.
And then there's Jo. Poor Jo! She's only getting worse. She spends the day with Gus, the rare-blood kid, and gets a call from a hospital in Canada about a patient with the same blood type, but before she can get all the details, she has to hang up. She assumes this means they have a blood donor and Gus is saved and she tells everyone the good news, including Gus's mother. But when she calls the hospital back, she learns that they, too, are looking for a donor for their patient. Jo got it all wrong.
To say she takes it hard is an understatement. She loses it. Ben finds her crying, but can't get any information out of her. Jo goes to Teddy for advice on how to handle the mistake, and Teddy can tell something is really wrong with her. It's not until both Ben and Teddy show up to talk to Bailey about Jo that everyone realizes how serious this is. When they find her, she's sobbing into the arms of Gus's mother. Bailey and Alex have a serious chat about What to Do About Jo, but neither has an answer. Alex can't get her to talk to him about what happened in Pittsburgh and Bailey has no advice to give. When Bailey is out of advice, you know things are bad.
Laughter Is the Best Medicine, Apart From Real Medicine
• Bless Link for so many things: his excellent bone structure. The fact that he can eat pizza all the time and also keep that excellent bone structure. But mostly, bless him for stopping Schmitt from following Nico around like a dummy trying to fix him after killing a guy. Link tells Schmitt that Nico needs space. He's dealing with something heavy that Schmitt doesn't understand and therefore can't help him. Scram, Schmitt!
• When Ben's trying to explain why it's so crazy to learn that Vic and Ripley are dating he tells the doctors it's because Ripley is the chief and Vic is a firefighter. Owen proceeds to point out that it's exactly like Ben, onetime hospital employee, dating their chief. His wife. Miranda Bailey. "Okay, fair enough."
• Dear Lord. Owen sees Amelia and Link in a healthy relationship. He sees Teddy and Tom in a healthy relationship. (He postpones his return to Baltimore and finds her her dream apartment!) He then walks into therapy to tell the doctor that he is feeling so clearheaded and wants to feel that way when he "tells her [he] love[s] her." So which healthy relationship is Owen going to destroy? Vote in the comments below!
• Andy refers to Sullivan and Ripley as "BFFs," and this is Sullivan's response: "Uh, that's not a term we use."
• Oh, okay, Zola coming at your mom and aunts with hard truths about who has boyfriends. I see you and I appreciate you.
The Sob Scale: 0/10
Save it for Station 19, people.