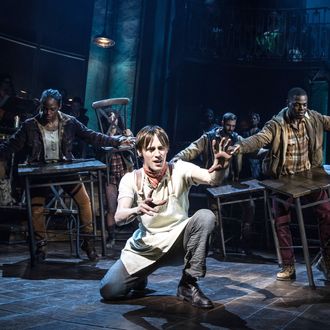 It's coming, wait for it.
Photo: Matthew Murphy
"It's an old song," Hermes sings as the narrator of Hadestown, "and we're gonna sing it again and again." The 14-time Tony-nominated musical is finally releasing a Broadway cast recording for its enthusiastic fans, who have been clinging to earlier recordings of the show since as early as 2010. Hadestown originated as a theater project singer-songwriter Anaïs Mitchell created in Vermont, grew into a concept album, and then took a years-long journey with director Rachel Chavkin through workshops, an Off Broadway staging, and stops in Edmonton and London before arriving on Broadway this spring, to a whole lot of acclaim. Hadestown will release a collection of songs from its Broadway cast recording to the public on June 7, and then continue to release music in batches afterward. Before then, Vulture is exclusively bringing you three of the musical's best-loved songs.
These are old songs, but we're going to sing them again — in new, expanded, and reorchestrated forms. The music and lyrics are by Mitchell, orchestrated by Michael Chorney and Todd Sickafoose.
Hadestown is loosely built around the Greek myth of Orpheus (played by Spider-Man: Turn Off the Dark's Reeve Carney) and Eurydice (played by Miss Saigon's Eva Noblezada). He's a poor boy blessed with musical talent given by the gods; she's a practical girl hounded by the fates. They fall in love, but in the show's first act, Hades (Spider-Man's Patrick Page) seduces Eurydice away from her bleak life with the offer of going to the "safety" of the underworld, a.k.a. Hadestown, which is dressed here as a hellish industrial metropolis.
In "Way Down Hadestown," Hermes, the show's narrator (The Wiz's André De Shields), provides an introduction to the underworld while singing to Persephone (The Great Comet's Amber Gray). She's the bringer of spring and Hades's wife, now forced to go back on the train to the underworld with him after six months aboveground. In "Wait for Me," introduced by Hermes's speech "Hey, the big artiste," Orpheus discovers that Eurydice has taken up Hades's offer and chases after her. In "Our Lady of the Underground," Persephone gets her big solo, greeting the audience at the start of the first act, offering up drinks and gifts from the world above for everyone stuck in Hadestown.
In addition to these three songs, Hadestown will release another batch of music on June 7, including Persephone's "Livin' It Up," Eurydice and Orpheus's "All I've Ever Known," Hades and Eurydics's "Hey Little Songbird," The Fates's "When the Chips are Down," Hades's "Why We Build the Wall, and Hermes's "Road to Hell (Reprise)." The label and producers will continue to release songs in batches according to a schedule to be announced until the full album is available.