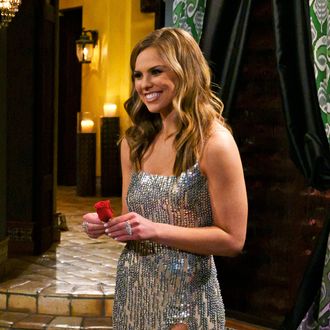 Hannah Brown.
Photo: John Fleenor/ABC
With a little bit of practice and a healthy sense of self-deprecation, you, too, will be able to Roll Tide someday, y'all. You'd probably have to be unconscious to think Hannah Brown's Bachelorette debut went well during March's After the Final Rose live special, during which time she uttered iconic dialogue such as "um" and "cool" enough times to create a new drinking game at the University of Alabama. (Shot! Shot! Shot!) Chris Harrison, who was on hand as Brown met a few of her suitors, admitted that her unveiling gave him major concern for the future of the franchise, although his fears dissipated as soon as they got to the mansion. "Whoever was skeptical after the After the Final Rose special and was scared: I was in that boat. I was scared to death!" he told THR. "I left that special thinking, 'Oh, dear Lord, did we just make a huge mistake?' But thankfully, after night one — actually, about an hour into filming that first night — I realized: this was the woman. This was Hannah."
The other Bachelorette women who were being considered from Colton Underwood's season were Hannah Godwin, Caelynn Miller-Keyes, Demi Burnett, and Tayshia Adams, although Harrison insists the reality magic just couldn't have been replicated with anyone but Brown. "She came in firing on all cylinders, controlled the situation, was funny, sweet, powerful and all the things that we knew she was," he added. "That's when I thought, 'Okay, this is Hannah.' So if you're scared to death, just give it a second. You'll be okay, just as I was." In five days, we'll be able to judge for ourselves, pageant style.