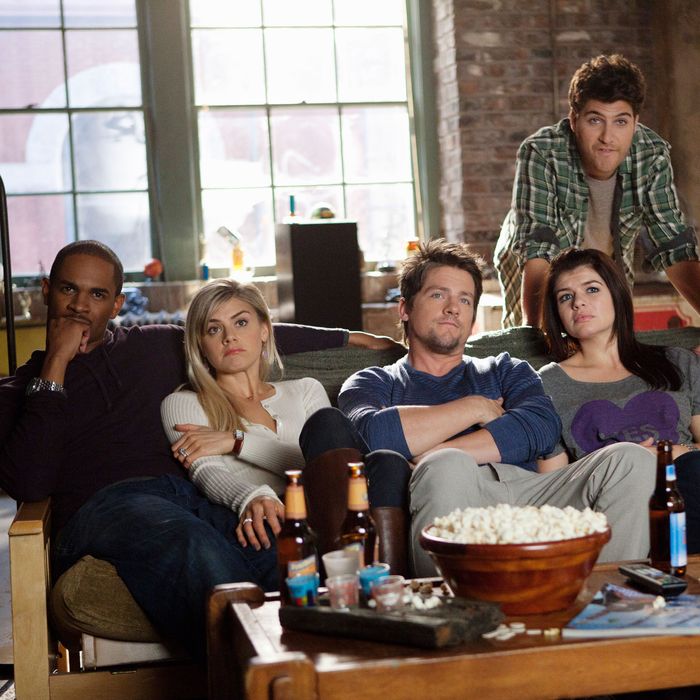 Happy Endings
.
Photo: Bruce Birmelin/ABC
Today, the topic at hand is endings, as a very big TV show did just that. Was it good, was it bad, was it satisfying, was it wrong? Regardless, it was on the terms its creators had wanted, as they even turned down an offer to do more episodes. In contrast, despite its name, Happy Endings was not so lucky, getting canceled after three seasons in a decision this very site called the 2012–2013 season's "biggest head-scratcher." Vulture and its readers loved Happy Endings, with its funny, funny jokes and a cast with some of the absolute best chemistry the 2010s ever did see. That's why when given the earliest possible anniversary — five years since its premiere — we organized a reunion of the cast, creator, and showrunner.
On this week's bonus Good One, Vulture's podcast about jokes and the people who tell them, we take you inside that Vulture Festival 2016 panel, featuring Eliza Coupe, Elisha Cuthbert, Zachary Knighton, Casey Wilson, Adam Pally, Damon Wayans Jr., David Caspe, and Jonathan Groff (not that Jonathan Groff). You can listen to the audio from the panel below or download the episode from Apple Podcasts, Spotify, or wherever you get your podcasts.