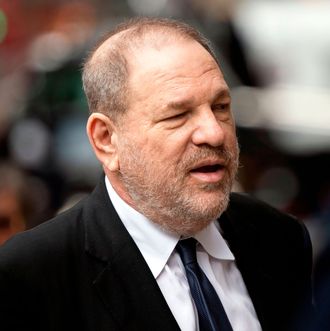 Lawyer Benjamin Brafman with client Harvey Weinstein
Photo: TIMOTHY A. CLARY/AFP/Getty Images
Harvey Weinstein, his accusers, board members of his former company, and the New York State Attorney General's Office have tentatively come to a $44 million legal settlement, sources tell Vulture. The Wall Street Journal first reported on this potential deal. Under the tentative agreement, accusers would receive money from a pot of $30 million, while $14 million would go toward legal fees, two sources familiar with the potential deal tell Vulture. Court proceedings suggest some of the former production company's creditors may also get part of this $30 million pool. One of Vulture's sources said the $14 million in legal fees was for his ex–board members.
After #MeToo revealed a tsunami of allegations against the producer, the New York attorney general sued Weinstein and his brother–business partner Bob Weinstein for allegedly "violating state and city laws barring gender discrimination, sexual harassment, sexual abuse and coercion" at the Weinstein Company. Word of this possible settlement emerged in a Delaware court on Thursday, where bankruptcy proceedings against the Weinstein Company are taking place. The Weinstein Company filed for bankruptcy in March 2018, following the deluge of misconduct allegations against Harvey Weinstein.
"For the first time, as of yesterday … we now have an economic agreement in principle that's supported by the plaintiffs, the [New York State Attorney General's Office], the defendants, and all the insurers that if approved, would provide significant compensation …," including to accusers and creditors, said Adam Harris, a lawyer who represents Weinstein's brother, Bob Weinstein, during this bankruptcy-court proceeding. The potential settlement figure confirmed by sources did not come up in open court. (Vulture obtained an audio recording of the proceeding.)
The proposed settlement is separate from the criminal sexual-assault charges still facing Weinstein in New York, for which he goes to trial on September 9. Weinstein has pleaded not guilty, insisting the sexual encounters in question were consensual. Weinstein's civil lawyer did not respond to requests for comment on the possible deal. The New York State Attorney General's Office declined to comment. A lawyer representing many of Weinstein's civil accusers did not immediately respond to an email seeking comment. Business-insurance policies will cover the possible settlement, one of Vulture's sources said. The bankruptcy case is ongoing.
Update Friday 5/25 6:00pm: While the potential settlement could bring some lawsuits involving sexual misconduct allegations to a close, it doesn't mean all accusers are part of this deal. "My lawsuit against #harveyweinstein is ongoing and I intend to take him to trial," actress Ashley Judd tweeted on Friday.
Lawyers who represent actress Wedil David, who in a lawsuit accused Weinstein of rape, issued a statement Friday afternoon saying, "Our client has steadfastly rejected the proposed deal. Sadly, rather than adequately compensate the rape and sexual assault victims of Harvey Weinstein who have pursued viable legal claims that have been brought within the statute of limitations, the proposed deal would provide millions of dollars to the ultra-wealthy directors of the Weinstein Company… and their big firm lawyers." The statement also said: "Our client does not begrudge any victim who accepts a settlement that she finds acceptable. But she will not participate in a process that is fundamentally flawed and unfair."
This is a breaking news story and has been updated throughout.