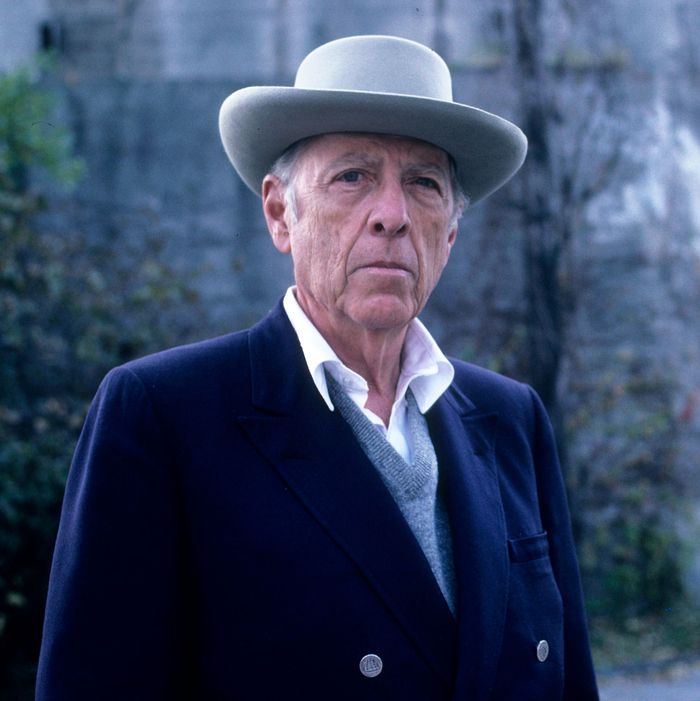 Herman Wouk.
Photo: ABC Photo Archives/Getty Images
Herman Wouk died today at the age of 103. One of the downsides of living to such an age, if you happen to have been a world-famous novelist of astonishing range, is that your fame has already faded by the time your obituary is written; you've outlived your peers, many of your fans, and even some of your protégés. Two of the Bronx-born author's novels will vie in his afterlife for posterity: 1951's The Caine Mutiny, the moral wartime drama that won him a Pulitzer Prize and was made into a Humphrey Bogart vehicle; and Marjorie Morningstar, published four years later, a Jewish female coming-of-age novel that in recent decades has been rediscovered (not that it was ever undiscovered) as a proto-feminist classic.
Wouk (pronounced woke, and he was, for his time) put forward a different candidate for posterity when I got the rare opportunity to talk to him, two years ago, when he was merely 101. (He had published a memoir of sorts, Sailor and Fiddler, and publicists had persuaded him to overcome his general aversion to interviews.) "As you know well, critics are divided on my work," he told me via video Skype, "but they all seem to agree, at the worst, that The Winds of War and War and Remembrance are a very good popular history of World War II. That in itself is a chance for hanging on for a while."
You would certainly have thought so in the '80s, when these two enormous, linked books became two enormous ABC miniseries and nearly matched the ratings of that other paragon of Peak Miniseries, Roots. It's telling that Wouk picked these out for immortality; he always wrote for the masses. But fashions change, and even celebrants of Morningstar, which some would argue gave The Group a run for its money, noted that he let a man have the last word. By the time I caught up with him, he had long retreated (but not retired) to Palm Springs and fully embraced his Orthodox Judaism. He told me he hadn't wanted to do anything special for his 100th birthday, but compromised with a small party: "So we ended up having a lunch and a nice cake in the most middle-class possible way. Members of my synagogue came in and danced around a bit, and then I went back to work."
Sitting in front of an overstuffed bookcase in an otherwise bare home office, bushy-bearded under a large yarmulke, Wouk was, if not undiminished, quippy as ever and quite content. I asked him why he had called himself, in his very late-life quasi-memoir, a "cheerful centenarian." He gave a circuitous answer with an upbeat ending — Wouk all the way:
Well, centenarian needs no explanation. It's cheerful that requires some. Setting aside the infirmities that come with it, it's a great time of life. I wake up every day and I'm thankful to the Lord. I've arrived here, four arms and legs, eyes still working, ears still working. That there is a reason to be cheerful if one thinks about it. As for the infirmities, that's part of the game. You've got to pay, and what you pay on the way out depends on how far you go, I guess, to see how long the coupon will last. It's very hard to be cheerful nowadays if you want to get to the depth of it. I have a grandson who's very concerned about sustainable development. Everybody realized that we really do live not on a platform which is infinitely big; it's really a very, very small place. For those who think about it, it's very sobering. In any case, it's not a question of forcing good cheer. It's a person's nature. My grandfather had three sons and two wives die of typhus in the old country, and he was probably the most cheerful man I knew in all my life.