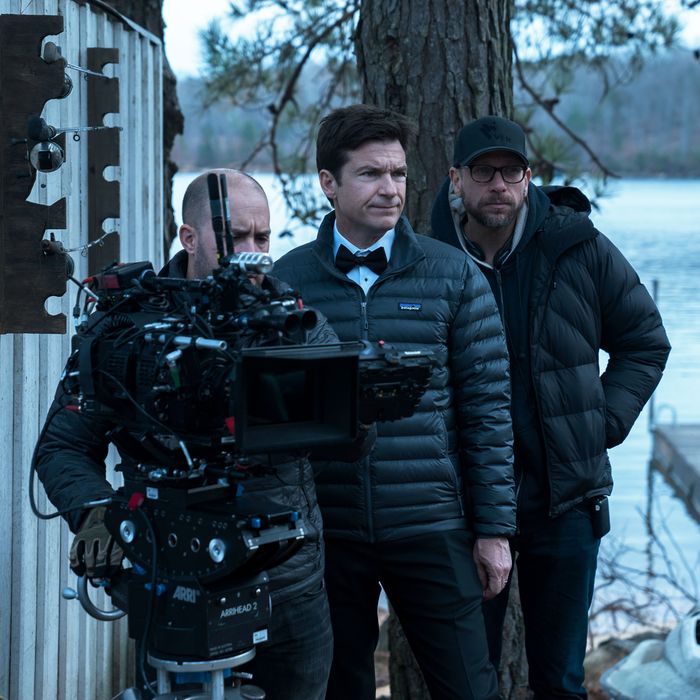 Photo: Jessica Miglio/Netflix
This month, the so-called Hollywood of the South was dealt a damaging blow. First, Time reported that director Reed Morano's upcoming Amazon Studios TV series The Power was canceling all plans to shoot in Georgia as a result of Governor Brian Kemp's May 7 decision to sign into law one of the nation's most restrictive abortion bills. Then, a representative for Kristin Wiig confirmed the Bridesmaids star's upcoming Lionsgate comedy Barb and Star Go to Vista Del Mar is also yanking its planned production in Georgia as a form of protest against the bill. Not long after, Netflix announced it would "rethink" its investment in the state should the law come into effect. And in the most potentially consequential remark any Hollywood power player has made about the dispute to date, Walt Disney Company chief executive Robert Iger said it would be "very difficult" for the media company to continue filming in Georgia if the new anti-abortion legislation is enacted.
Whether these deciscions should be regarded as harbingers of a more sweeping production exodus still remains to be seen. What's certain is that in recent years, Georgia has become a go-to production hub for blockbuster movies like Avengers: Endgame and hit TV series such as AMC's The Walking Dead. Its generous, 20 to 30 percent tax incentives have resulted in an enormous influx of entertainment-industry cash — the state took in $2.7 billion in TV and movie revenues in the 2017 fiscal year and currently an estimated 92,000 Georgians hold jobs at all levels of the industry food chain. Now, anti-abortion legislation is causing a rift in the sympatico relationship between Georgia and Hollywood.
Showbiz responses to the highly controversial legislation fall into three neat categories: There are the boycotters — actors, filmmakers, and production companies calling for TV and film projects to pull out of Georgia en masse. The hope is that such a boycott would amount to severe economic penalties — if Disney's Marvel Studios alone stopped shooting there, Georgia would lose hundreds of millions of dollars a year — and dissuade the state from allowing the law to take effect on January 1, 2020. "I guess we won't be shooting movies and TV in Georgia anymore if this moves forward," Judd Apatow tweeted.
Then there are the major movie studios, streaming services, and TV networks that have opted for silence, refusing to acknowledge the controversy or publicly articulate their position on the bill. They have hardly come out in favor of the legislation, but they are ostensibly continuing to do business in the state while their peers exit in protest.
And then there is a third branch, which has been gathering momentum recently: captains of the entertainment industry who support toppling the law, who vow to "stand with women" and plan to defer portions of their earnings to support organizations like the American Civil Liberties Union in battling newly restrictive laws that are popping up across the country — but who have publicly stated that their productions will remain in "Y'allywood."
Exhibit A: When the bill (known as HB 481) was signed into law, Chernin Entertainment was already deep into production on a film trilogy, Fear Street, and a TV series, P-Valley. While executives at the company found the bill abhorrent — it makes abortions illegal as soon as cardiac activity can be detected in an embryo, which can be as early as six weeks into pregnancy (even though many women don't realize they are pregnant until they are past the six-week point) — they felt conflicted about pulling business out of Georgia. "[If] we chose the boycott route, thousands of jobs would be lost, ultimately damaging workers who rely on production for livelihood, including many women," Chernin said in a statement. "We also know that the only way to fight the massive, now national incursion on women's rights is through a legal battle, a battle that needs funding on the ground and support via organizations like the ACLU who are powering up to overturn the law. So our choice became pretty clear. We will stay in Georgia, stand shoulder to shoulder with the women of that state and the states under attack, and fight to win." (The company pledged to make a "significant donation" to the ACLU.)
J.J. Abrams and Jordan Peele delivered a joint statement earlier this month announcing that their HBO series Lovecraft Country will also film in Georgia despite the co-producers' unease with the anti-abortion law. "In a few weeks, we start shooting our new show Lovecraft Country and will do so standing shoulder to shoulder with the women of Georgia," Peele and Abrams said. "Make no mistake, this is an attack aimed squarely and purposely at women. We stand with Stacey Abrams and the hardworking people of Georgia and will donate 100 percent of our respective episodic fees for this season to two organizations leading the charge against this draconian law: the ACLU of Georgia and Fair Fight Georgia."
Oscar winner Ron Howard issued a similar joint statement with his longtime producing partner Brian Grazer, explaining that after "much thought and deliberation," their film Hillbilly Elegy will shoot in Georgia next month. "We felt we could not abandon the hundreds of women and men whose means of support depend on this production," Grazer and Howard said. "We see Governor Kemp's bill as a direct attack on women's rights, and we will be making a donation to the ACLU to support their battle against this oppressive legislation." They added: "Should this law go into effect in January, we will boycott the state as a production center."
On Tuesday, Netflix spoke up in kind, announcing that it will continue production on original series like Ozark and Insatiable. Should HB 481 come into effect, however, the streaming giant will consider transferring production elsewhere. "We have many women working on productions in Georgia, whose rights, along with millions of others, will be severely restricted by this law," Netflix chief content officer Ted Sarandos said in a statement sent to CNBC Tuesday. "It's why we will work with the ACLU and others to fight it in court. Given the legislation has not been implemented yet, we'll continue to film there — while also supporting partners and artists who choose not to. Should it ever come into effect, we'll rethink our entire investment in Georgia."
(A source close to MRC, the studio behind Ozark, confirmed a donation was made to the state's chapter of the ACLU.)
Most major studios, streamers, and networks have circled the wagons when it comes to discussing how Georgia's law will affect their productions moving forward. Fox (and initially Disney) referred Vulture to a prepared statement by the Motion Picture Association of America. "It is important to remember that similar legislation has been attempted in other states, and has either been enjoined by the courts or is currently being challenged," said MPAA spokesman Chris Ortman. "The outcome in Georgia will also be determined through the legal process. We will continue to monitor developments." Lionsgate and Universal/Focus Features did not respond to requests for comment. Oprah Winfrey's OWN declined to comment for this story. All of those media companies currently have projects in production in Georgia.
According to Jason E. Squire, professor at USC's School of Cinematic Arts and editor of The Movie Business Book, Hollywood's power players may be taking a wait-and-see attitude toward the bill, which is all but destined to face lawsuits by such organizations as Planned Parenthood, the Center for Reproductive Rights, and the ACLU. "This whole issue is just beginning," Squire says. "It's a long road to enactment. I wouldn't be surprised if some of the larger media companies are not planning an alternative. I wouldn't be surprised if they were engaged in some quiet form of diplomacy with lawmakers behind the scenes."
Disney chief Iger, meanwhile, was asked point blank on Wednesday if Disney would continue to film blockbuster movies (with budgets in the $200 million to $400 million range) such as Black Panther and Avengers: Infinity War in the state if the law took effect. His reply left little uncertainty about the studio's position: "I rather doubt we will. I think many people who work for us will not want to work there, and we will have to heed their wishes in that regard." The executive added that if HB 481 is enacted, "I don't see how it's practical to continue to shoot there."
The next day, AMC sent Vulture the following statement: "If this highly restrictive legislation goes into effect, we will reevaluate our activity in Georgia. Similar bills — some even more restrictive — have passed in multiple states and have been challenged. This is likely to be a long and complicated fight and we are watching it all very closely." WarnerMedia, NBCUniversal, Sony, CBS and Viacom issued similar statements on Thursday, as well.
Producer Christine Vachon's Killer Films, Hunger Games producer Nina Jacobson's Color Force production company, Counter Narrative (the company behind Netflix's Triple Frontier), and The Wire writer-producer David Simon have all pledged to withhold business from Georgia in light of the law. Mark Duplass, whose Duplass Brothers Productions has a four-picture deal with Netflix, earlier this month tweeted, "Don't give your business to Georgia. Will you pledge with me not to film anything in Georgia until they reverse this backwards legislation?" Even before it was passed into law, the Writers Guild of America's East and West Coast branches condemned HB 481 in a joint letter for making Georgia "an inhospitable place for those in the film and television industry to work" and pointedly noted that "it is entirely possible that many of those in our industry will either want to leave the state or decide not to bring productions there." Alyssa Milano, co-star of Netflix's Insatiable, and Jason Bateman, co-star of the streaming giant's series Ozark, both have respectively said they will discontinue working in the state if the law is enacted. In an open letter addressed to Georgia House Speaker David Ralston and Governor Kemp in March, dozens of celebrities, including Ben Stiller, Alec Baldwin, Rashida Jones, and Don Cheadle, publicly vowed to push production companies to abandon the Peach State if the bill was passed. (Speaking at a state Republican convention earlier this week, Kemp scoffed at the boycott pile-on. "We value and protect innocent life — even though that makes C-list celebrities squawk," he said.)
That growing initiative has the Georgia chapter of the International Alliance of Theatrical Stage Workers, a trade group of craftspeople who work on movies and TV, deeply concerned. In an open letter to the IATSE's Local 479 written in response to widespread hand-wringing within the organization, the Alliance's business agent Michael Akins took pains to assure members that HB 481 has a relatively slim chance of taking effect. "These sorts of lawsuits normally trigger an injunction, temporarily suspending enforcement of the law until such time as the courts issue a final order on the lawsuit," Akins wrote. "Between hearings, appeals, and other deliberations, several years could pass before a final decision is reached, possibly by the United States Supreme Court. Therefore, in the event a court injunction ensues, we can be reasonably assured that, for the foreseeable future, this new legislation will not be enforced for quite some time, if ever."
One Hollywood media adviser, who frequently works with major entertainment companies in Georgia, summed up the sentiment driving players in Hollywood: Boycott efforts will ultimately be less effective than mounting a legal counterattack aimed at defending reproductive freedoms. "It doesn't make sense. You want to force them to leave so you can have a headline and feel better about not working in the state?" this person tells Vulture. "Even if you're boycotting, you need to write a check to the ACLU. You can boycott all you want, but the two aren't mutually exclusive."
"It's disappointing that Gov. Kemp, by signing this bill, feels he needs to gain access to a woman's right to her own body," Stephen Campbell, director of photography on The Walking Dead, wrote in an email to Vulture. "We are so busy right now that even with this news our cast and crew know the courts have to get involved with a decision as great as this one. There is a movement in place that disregards this bill and stresses the importance of the motion picture industry and all of the work it provides for women and men alike. We have to keep it positive."
Josef Adalian and Jackson McHenry provided additional reporting for this story.
*This story has been updated to include statements from The Walking Dead's Stephen Campbell, Netflix, AMC, and Disney.