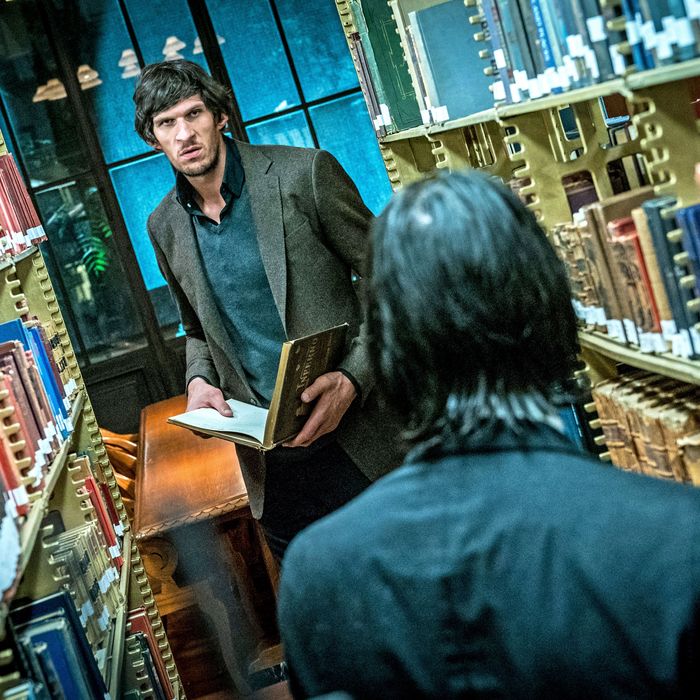 Photo: Niko Tavernise/Summit Entertainment
In the opening scenes of John Wick Chapter 3 — Parabellum, a vast network of professional contract killers is alerted to a $14 million bounty that's about to be placed on the head of Keanu Reeves's indestructible mob super-assassin character. But as John Wick heads to the New York Public Library to retrieve some personal belongings, a curiously tall killer decides to jump the gun and murder him before he is officially declared "ex-communicado" — in other words, before he has become a viable target for offing. That curiously tall person is played by none other than 7-foot-3 NBA star and Twitter sensation Boban Marjanović, who is currently a center for the Philadelphia '76ers.
Asked how the NBA big man — who has no background in either acting or martial arts, or even a desire to appear in movies — wound up in John Wick 3, repeatedly palming Keanu's head like a basketball, the film's director Chad Stahelski tells a story that can be summed up with the following four words: "'Ah well, fuck it."
The longer version of Marjanović's Cinderella casting story begins on a rainy night in the Big Apple, before the Parabellum script was 100 percent complete. Contemplating how to take John Wick off the island of Manhattan, Stahelski stumbled into the public library to avoid the weather and suddenly had an epiphany. "The way I shoot [action] choreography is to subvert the normal," the director says. "I thought, Let's make it so difficult that it's hard to [fight]. How do you do that? Supertight space. And let's get the biggest guy we can find." That supertight space became the library.
Stahelski admits drawing inspiration from the 1973 kung-fu classic Enter the Dragon, in which 5-foot-8 Bruce Lee squares off against the Los Angeles Lakers' 7-foot-2 center Kareem Abdul Jabbar to unforgettable effect. Problem was, after three weeks of attempting to cast eight- and nine-foot-tall stuntmen, the director still hadn't found the right person to play his library assassin, Ernest.
Around that time, Wick 3 producer Basil Iwanyk — who happens to be a huge basketball fan — flew into New York for a production meeting and offered a crucial suggestion. "He was like, 'Dude, I got it.' I'm like, 'Whatta ya got?'" Stahelski recalls. "'He goes, 'You need Boban.' And I'm like, 'Great. What's a Boban?'"
Iwanyk took Stahelski to YouTube to watch footage of Marjanović, who happens to be the tallest player in the NBA. Stahelski warmed to the Serbian-born player's personality and "East European kind of vibe," but the athlete's lack of action movie bona fides bugged him. "He's not an actor. Not a stunt person," says Stahelski. "I need somebody that's going to do the opening fight scene of John Wick 3. So there's some expectations there, with a guy that's never been on camera or done stunts before. I'm like, 'Yeah, no. I'll pass.'"
Stahelski's brush-off didn't last long, though. According to him, he randomly changed his mind soon after. "I was like, 'Ah well, fuck it. Let's talk to him. Let's have my stunt guys give him an assessment,'" Stahelski says. Marjanović flew out to New York to meet with Parabellum's stunt team and "by the third or fourth day, my action choreographers come to me and go, 'He's awesome. We should do this.'" He specifically impressed action coordinators Anthony Vincent and Jon Valera, who described the player as "very athletic" and having "a really big heart."
From there, Marjanović was sent to do a table read with Reeves. After a few days of cursory stunt rehearsals, the seven-footer was kicking the crap out of John Wick among the bookshelves at the New York Public Library while the cameras rolled. "He's got the biggest hands in the NBA, so that's why you see all these face grabs. You can really see the dimensions of his hand on Keanu's little head," Stahelski notes. "He's got a size-27 shoe, so when you see that front kick, it goes."
During the scene — as in just about every action sequence across the franchise's three films — John Wick fends off his attacker with whatever objects (or, as a later sequence necessitates, animals) are on hand. In the library, the go-to weapons are books. In fact, after a series of blows dealt back and forth between the narrow stacks, John Wick deals a final thwack using a dusty old tome, mashing his enemy's wind pipe with a book's spine. (It's … gruesome.)
But, um, why a book? I ask Stahelski. Seated in a conference room at the Santa Monica offices of Parabellum's studio distributor Lionsgate, he opens a shoulder bag to reveal two leather-bound books which he uses habitually to document ideas for action set pieces. "We're in this ridiculous reality," he says. "We're in this ridiculous universe. We're in this ridiculous choreography. We're actually going to kill you with a book."