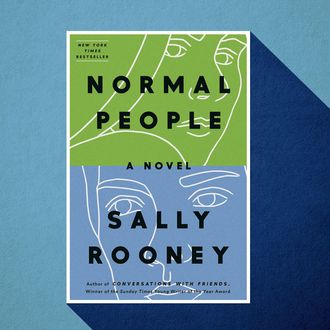 More reasons for everyone to be reading this on the subway.
Photo: Vulture
Seemingly everyone, even Taylor Swift, is reading or at least talking about Sally Rooney's novels of Irish millennial angst, and so we're quickly getting a Sally Rooney TV show. Hulu, which loves an angsty millennial, and BBC Three are producing an adaptation of Rooney's latest novel Normal People into a 12-episode half-hour drama. As with the novel, the series "tracks the tender but complicated relationship of Marianne and Connell from the end of their school days in small-town west of Ireland to their undergraduate years at Trinity College." At school, Connell is popular and plays on the football team, while Marianne is bookish, lonely, proud, and also much wealthier than Connell. "When Connell comes to pick up his mother from her cleaning job at Marianne's house, a strange and indelible connection grows between the two teenagers — one they are determined to conceal," as Hulu describes the events. "A year later, they're both studying in Dublin and Marianne has found her feet in a new social world but Connell hangs at the side lines, shy and uncertain."
The series will star a pair of near-unknowns, at least in the U.S.: Daisy Edgar-Jones (Gentleman Jack) as Marianne, and Paul Mescal making his TV debut as Connell. Rooney is adapting the book alongside writers Alice Birch and Mark O'Rowe. Room's Lenny Abrahamson and British TV and theater director Hettie MacDonald will each direct six episodes. Normal People will start shooting in Dublin next week and will premiere in 2020. It's only a matter of time before a rival streaming service scoops up Conversations With Friends, so that we can have a Deep Impact/Armageddon situation but for finely drawn Irish dramas about love and class.