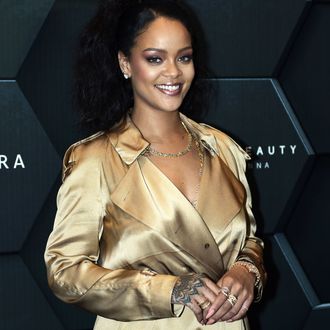 Photo: Mark Ganzon/Getty Images
Once upon a time (2011) in a galaxy far, far away (Northern Ireland), a farmer dared to suggest that Rihanna wear more clothing. That farmer became a local councillor, and that local councillor has just lost his seat. (As Rihanna herself memorably tweeted, "Every tongue that rises up against me shall fall!!!!!!") Per the Belfast Telegraph, Alan Graham, a "councillor on Ards and North Down Council for several terms" lost his seat Saturday morning to Alliance Party representative Scott Wilson.
Graham, known for his conservative politics, made headlines several years ago when he criticized Rihanna's outfit when she was filming the music video for "We Found Love" on his property. At the time, Graham said that he did not "believe young ladies should have to take their clothes off to entertain." I do not speak for Rihanna, but I do not believe Graham should share such opinions. Good luck with bookin that stage u speak of!