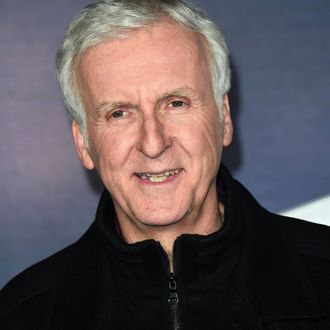 James Cameron.
Photo: Eamonn McCormack/Getty Images
Records are made to be broken, but maybe not — slight eye twitch — James Cameron's records. The director of the highest-grossing movie ever (2009's Avatar) and the now third highest-grossing movie ever (1997's Titanic) has congratulated Avengers: Endgame on toppling Titanic's worldwide box-office gross. In the two weeks since it was released, Endgame has grossed $2,272,706,419, according to Box Office Mojo, outearning Titanic's $2,187,463,944. Sure it took Robert Downey Jr., Gwyneth Paltrow, Scarlett Johansson, Mark Ruffalo, Tom Holland, Jeremy Renner, Chrises Evans, Pratt, and Hemsworth, and a Natalie Portman cameo to make what Titanic did with one little "Draw me like one of your French girls," but who's really counting? Here's James Cameron's message to Marvel & Co.:
Please notice that he took the time to distort the Avengers symbol, as if it were really underwater. Save yourself a seat at Avatar 2 on December 17, 2021!