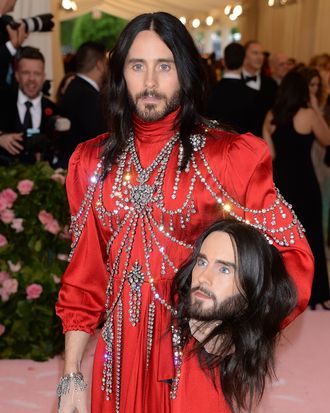 Jard Leto
Photo: Broadimage/REX/Shutterstock/Broadimage/REX/Shutterstock
While the definition of camp is by its very nature hard to pin down, the image of Jared Leto's assistant's last-minute flat ironing of the wig attached to his boss's faux severed head comes close enough for us. The actor turned up on Monday's Met Gala pink carpet with a truly stunning replica of his own decapitated noodle, an accessory straight from the Gucci fall 2018 runway show. (That spectacle was entitled "Cyborg Manifesto" after a 1985 Donna Haraway essay.) Well, it's probably not straight from the runway; clearly you have to order that thing a few weeks ahead of time. But the results were clearly worth it, as it has taken us until right now to realize that the rest of his outfit is a diamond-encrusted red silk turtleneck gown.
But if you thought Leto had the last laugh when it came to bizarre looks (the laughter is, of course, coming from the severed head), shut up and take a look at Ezra Miller's "face on face on face with a statement lip" look.
What did Coco Chanel say — before you leave the house, put one more thing on? In this case, a set of eyeballs? Looks as if Miller had been leaving houses all day long. So we are left to wonder: Who's doing this better? And do Leto's head and Miller's mask know each other? Have they gone out for the same roles or, at the very least, dated? Why or why not? Please show your work in the comments below.