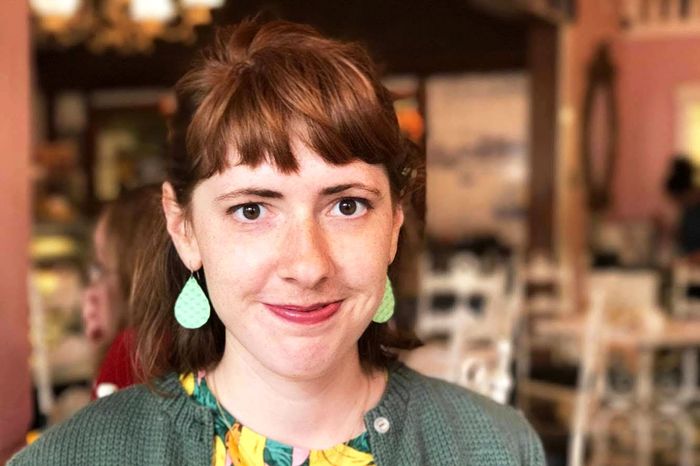 Jenny Nelson.
Photo: Chelsea Tageson-Crane
Jenny Nelson (@jrnnynrlson) is a writer and comedian born and raised in Chicago and living in Brooklyn. She works in tech and used to write this column if that's okay to say.
This week, Jenny and I chatted about Macklemore, scarecrow bangs, and being furious at your loved ones.
In 2013, Macklemore put gay marriage on the map (and eviscerated YouTube commenters!!!) with his hit song "Same Love Feat. Mary Lambert," and I wish nothing but the best to the 33 couples whose joint wedding took place during what was surely one of the top televised awards-show performances of that song. A cool thing is that I thought of this tweet in October, I think, and chose to put "macklemore wedding" on my online calendar for January of the following year.
Has Twitter been a good platform for your jokes?
I think so. Sometimes I feel my jokes are best delivered online because how I speak and carry myself gets in the way of my "creative" use of "language," and other times I think how I speak and carry myself is what's most important for my jokes. What's nice is that whenever I am tweeting and feel the latter, I can always just add a "relieved" emoji at the end of my tweet and that actually conveys my entire real-life personality.
What got you into doing stand-up? How would you label/brand/ describe your style of humor?
I used to be so against the idea of performing and realized a major thing stopping me was my strong personal belief that I am shy and lack confidence, two things that I've realized cannot actually stop anyone from doing stand-up comedy. I think the skewed understanding of right and wrong I developed at age 12 is very funny and would describe my style of humor as reverent, and especially reverent to that understanding. My hope is that the impression I leave people with is a gentle discomfort that lasts for months.
Unfortunately, "something" is happening to flowers every day. ):
You recently retired a show you co-hosted for three years. Has that been difficult? Do you have any favorite memories from it?
I am excited to be off the hook in terms of producing a monthly show, but now I'm not sure what to look forward to next month. Every single show was my favorite one, and I had a great time co-hosting with my dear friend Kady Ruth Ashcraft, so naturally my favorite memory is anytime someone accused us of fighting — this happened frequently, and we never were, and if we had to, I like to think that we wouldn't do it onstage. I've learned it's hard to control other peoples' perceptions of me and am trying to learn how to enjoy that. Whenever I am upset or bored and everyone thinks I'm happy, that's nice. When I am hosting my own show with someone I love and everyone thinks I'm furious? That can be nice, too, in a way.
Does your tech job inform your comedy at all?
Yes! My day job involves writing for and thinking about some of the most seemingly inconsequential interactions a user can have with a product, like what a button should say and exactly how it should light up when a user presses it, or how the chatbot that reports the weather should respond when a teen user goes off book and tells it that they hate homework. In coming up with useful ideas for work, I am always thinking of useless ones, too, and lately I've been trying to keep those to myself and salvage them for UX comedy collaborations with my motion-designer friend Patrick Hosmer. I also really want to do more live interactive tech performances, but for now I am still struggling with how to connect to any venue's Wi-Fi and projector at the same time.
I like to cut my bangs at home to stay on budget as well as humble. One trim left my bangs looking particularly haylike and inspired me to do a Google Image search of the phrase "scarecrow bangs," expecting to see pictures of "girl" scarecrows with hair made of hay. Imagine my surprise when I found my actual celebrity doppelgänger, this scarecrow in a gorgeous red wig!
Do you ever think of getting into hairdressing? Do you think I could pull off scarecrow bangs?
Yes and yes! I would be happy to give them to you (feel like that's what you're asking).