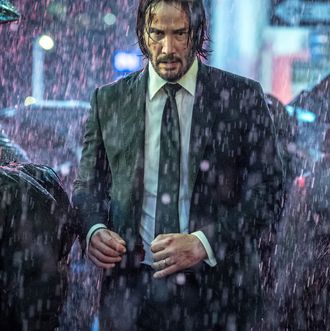 Photo: Niko Tavernise/Summit Entertainment
Just 24 hours after a franchise-best opening weekend for John Wick: Chapter 3 — Parabellum, the series has been given a fourth installment. Lionsgate wants to stay in the stylish assassin business, so John Wick Chapter 4 is now on the books for May 21, 2021. There's no official word yet on whether Keanu Reeves will reprise his now iconic role, but the actor did recently tell GQ that he will keep playing the part as long as people want him to. "As far as my legs can take me," he said. "As far as the audience wants to go." Keep going, Keanu!
Director Chad Stahelski, meanwhile, is very enthusiastic about continuing to helm the franchise — forever, if he can. "If people go see the movie, and it makes money, and they came back to us, Keanu and I have ideas for days. It's a fun world," Stahelski said to Entertainment Weekly. "I could live here for the rest of my career. If people like it and want to watch more, I could think of way worse ways to spend your career. We'll let the audience figure that out." So it might not be for sure, but it seems highly likely that Reeves and Stahelski will be back, and that would be great news.