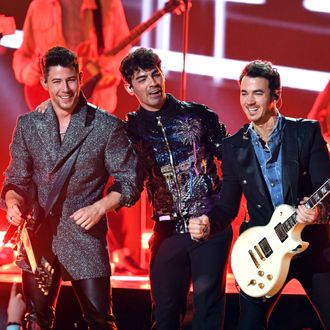 Jonas Brothers.
Photo: Kevin Winter/Getty Images for dcp
Finally, the Jonas Brothers will give us all the juicy details about everything that led up to their reunion and current journey to deliver their newfound positive vibes to the whole world. Amazon's Chasing Happiness follows the three (now happily married) Jonas Brothers from their humble beginnings all the way to their Billboard chart-topping reunion in 2019. It's been six years, but like the new trailer says, "It's never too late for an encore."
The documentary features exclusive behind-the-scenes footage of their past tours and new adorable clips of the Jonas trio dancing and singing together when they were kids. You no longer have to dust off your copy of the 2009 documentary Jonas Brothers: The 3D Concert Experience to get your nostalgic Jonas fix. It's a tell-all that includes everything up to their solo careers and Nick's wedding with Priyanka and Kevin's cute kids. There's probably no Ring Pop wedding from Sophie Turner and Joe, though.
The JoBros announced the date of the documentary's release with a little help from Alexa. They had the audacity to ask her who her favorite Jonas Brother was. Of course, she said she didn't know. (But it's obviously Joe, right?) The film's release date coincides with the Jonas Brothers' comeback album Happiness Begins, which will be out on June 7. Chasing Happiness premieres exclusively on Amazon Prime Video on June 4, hereby known as No-More-JoBro-Independence Day.