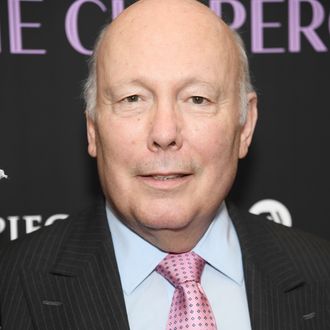 Julian Fellowes.
Photo: Dimitrios Kambouris/Getty Images
Why bother looking for the next Game of Thrones when you can make the next Downton Abbey? HBO announced that it has ordered ten episodes of Downton creator Julian Fellowes's drama The Gilded Age, which has been in the works since 2012 and was previously set to air on NBC. The series centers on "Marian Brook, the orphaned daughter of a Southern general, who moves into the home of her rigidly conventional aunts in New York City," who is "accompanied by the mysterious Peggy Scott, an African-American woman masquerading as her maid," according to the series description. "Marian gets caught up in the dazzling lives of her stupendously rich neighbors, led by a ruthless railroad tycoon and his ambitious wife struggling for acceptance by the Astor and Vanderbilt set." From there, you can expect social intrigue, expensive sets, and probably so many significant glances.
Fellowes created and will write and executive-produce the series alongside executive producer Gareth Neame and director Michael Engler. While The Gilded Age has been in development for years, Fellowes is also making a Netflix series about the origins of soccer. But HBO wants to emphasize that the Gilded Age, which it's producing with Universal TV, will really be a spectacle. "Given the opulent scope and scale of this richly textured character drama, HBO is the perfect home for The Gilded Age," HBO president Casey Bloys promised. "We're all huge fans of Julian and I know I speak for Bob Greenblatt — who was involved in the development of this series while at Universal Television — when I say we're thrilled to bring his undeniable genius to our viewers."
Greenblatt, formerly the head of NBC, is now CEO of WarnerMedia Entertainment so now oversees HBO. The Gilded Age was originally going to air on NBC in 2019 after years in development. According to a statement from Paul Telegdy and George Cheeks, the new co-chairmen of NBC Entertainment, the show went to HBO after a "highly competitive bidding process. "As with all of our studio projects, our goal is to find them the home that is the best fit for the series," they said. "We love the ambition and scope of The Gilded Age, and after a highly competitive bidding process, ultimately came to the conclusion that HBO is the perfect network for this epic story. We can't wait to partner with them to bring Julian's majestic drama to audiences all over the globe." Welcome to the brave new world of Greenblatt's HBO, now with more opulent costume drama.