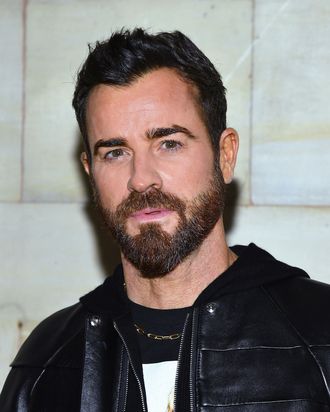 Justin Theroux.
Photo: Pascal Le Segretain/Getty Images
Justin Theroux's lawsuit against a neighbor in his Greenwich Village co-op building has become a sort of rich person's version of angrily banging a broom against the ceiling.
Instead of complaining about overloud music, the actor has claimed in court papers that his neighbor, 71-year-old Norman Resnicow, has "deprived" him of using their shared roof deck due to an allegedly bogus property-line dispute.
The two-year legal battle has since devolved into allegations that Theroux treated his dogs poorly and that Resnicow hassled members of their co-op board. Theroux also claimed in a court filing that he overheard Resnicow harshly scolding his wife and subsequently spotted her with a black eye, according to reports.
Theroux and the co-op's lawyers also said that Resnicow violated a temporary restraining order that barred him from hassling others in the building. Lawyers for the two parties met in a Manhattan courtroom today to decide whether the septuagenarian should be held in contempt.
Resnicow's lawyer maintained that his client, who is also a lawyer, is the target of a celebrity bully.
"I stand before the court today in defense of a decent man, an ethical attorney, who's become the victim of a vindictive mob," said Peter Levine, Resnicow's lawyer. "The leader of this mob, Justin Theroux, is not interested in resolving a boundary dispute. He is not interested in building a deck, he wants to destroy Norman Resnicow."
Justice Gerald Lebovits, who maintained a wry reserve during the wacky proceeding, asked Theroux's lawyers what they wanted from Resnicow. "Civil contempt authorizes jail," among other penalties, Lebovits pointed out.
"We're seeking all of our legal fees in connection with having to make this motion" for contempt, "as well as costs and the board's legal fees," said Eric Sherman, Theroux's lawyer.
"The man is untethered," Sherman said of Resnicow. "A court order doesn't do it."
Resnicow ultimately agreed to pay $23,000 over claims he violated the restraining order.
Resnicow was present for the proceeding, sporting a dapper fedora and navy trench. Theroux was not in court.
Theroux's lawsuit, filed in May 2017, claimed Resnicow engaged in "petty and disruptive" antics such as "killing the ivy growing between Mr. Theroux's and the Resnicows' portions of the roof deck because he knew that Mr. Theroux enjoyed the aesthetic of the ivy."
Theroux's suit also alleges that Resnicow shut off water and electricity to the deck and attempted to get Theroux to install some $30,000 in apartment soundproofing.
"In the past six months, Mr. Resnicow has demonstrated a bizarre, troubling obsession with my life and my property and has proven unwilling or unable to stop himself from entering my property, in direct violation of my rights — despite my lawyer's written demand that he cease doing so," Theroux said in an affidavit made public in late 2017.