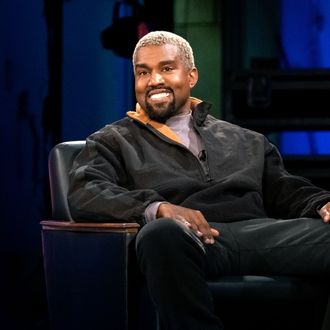 Alexa, play "Crew Love" by Drake, apparently.
Photo: Tyler Golden/Netflix
The great Kanye West–Drake beef has cooled off, but Kanye still treads lightly around the subject in his interview with David Letterman on My Next Guest Needs No Introduction. Per Pitchfork, West doesn't acknowledge the Toronto rapper by name, instead calling him "an artist which I will not mention because I'm not allowed to mention him or any of his family members." When Letterman calls that description "fairly provocative," Kanye explains, "Well, we had a little beef last year." He then quotes a line from Drake's 2011 song "Crew Love."
The fraught frenemyship between Kanye and Drake reignited when Kanye scheduled the release of five albums in the middle of Drake's Scorpion rollout. (Other important chapters: Kanye denying that Pusha T learned about Drake's son from him, Drake reaching out to Kanye's team to clear a sample so his So Far Gone mixtape could be released on streaming, and a lot of threats.)
On My Next Guest Needs No Introduction, Kanye also talked about his mental health, Donald Trump, and the #MeToo Movement. Per Pitchfork:
"We as a society are constantly in fear," Kanye said. Dave responded, "Well you mention a general fear of the male side of this situation. I would submit that it's not equal by any equation to the fear women feel being the other side of that." The crowd then cheered.




"I'm definitely supportive of the women," Kanye said. "What I'm saying is we're not allowed to have any conversation. When you go to court, both sides can talk. This is a court of public opinion where when someone bombs first, the war is supposedly over." Dave responded, "These lessons are learned slowly, and that may be the way it's perceived now, but with future reinforcement and enlightenment, there may be a more reasonable expression of friendliness between the sexes that isn't threatening to women."
Even though Kanye was coy when it came to Drake, he spoke extensively on his support of Trump because of course he did.