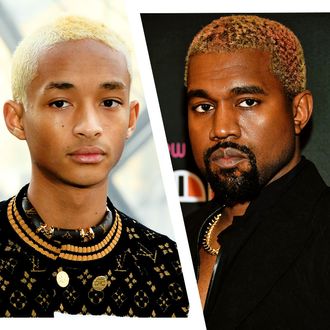 Jaden Smith and Kanye West.
Photo: Getty Images and Shutterstock
Keeping Up With the Kardashians isn't Kanye's only television commitment these days. Deadline reports that Showtime is developing a limited half-hour anthology series called Omniverse, giving you something to watch after a night of Billions. Executive produced by Kanye West, Scooter Braun's SB Projects, and Westbrook Studios, Jaden Smith will star in Omniverse, and executive produce.
Written by Lee Sung Jin (Undone), season one "explores the Ego through an alternate reality Kanye West," according to Deadline. Because some things are just too on the nose to resist, Smith will play the younger, alt-reality Kanye.