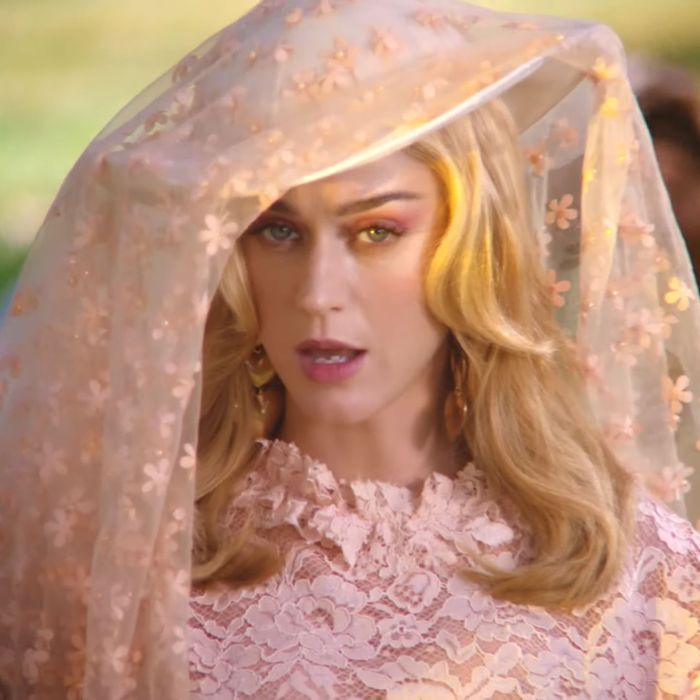 Photo: Katy Perry/YouTube
Katy Perry's Witness era was an extended exercise in a pop star doing the absolute most, from the hammy woke messaging of the lead single "Chained to the Rhythm" to the 72-hour YouTube livestream, where the singer staged public advice and therapy sessions, right on down to the televised performances. It's a shame that the lasting images from that period are the clip of Perry dancing painfully awkwardly with the Migos on a buffet table, playing "Bon Appétit" on SNL, and snapshots of her looking spent on the stream that have since been memed. The great Witness records — see: "Hey Hey Hey," "Pendulum," and "Tsunami" — deserved better than being packaged in the middle of that spectacle.
The SoCal singer has been dialing it back ever since then. Her hook for the Calvin Harris and Pharrell single "Feels" was understated and effortless. The Zedd team-up "365" sold its quirky robot-wife video premise alongside some of the singer's most infectious melodies in years. The follow-up collaboration between Katy and Zedd, her new solo single "Never Really Over," keeps the streak. The song uses Norwegian pop singer Dagny's 2017 single "Love You Like That" as a launchpad, giving Perry a good platform over which to work her magic. She keeps the staccato phrasings of the original song but delivers a more confident and challenging vocal, skipping across high notes where Dagny seemed to strain on them.
"Never Really Over" is a slight return to the motivational fare Katy Perry's best at. Her most successful singles — "Roar," "Firework," "Teenage Dream," and the like — all go for broke with soaring vocals and endearing messages about how to find happiness. The post-breakup reckoning of the new single goes for the same. The only thing holding it back is the production, which lands too close to the plodding 16th notes of middle-decade hits like Taylor Swift's "Style" and "Out of the Woods." (Remember when Taylor Swift delivered 1989 to streaming services on the exact night of Witness's release!?) That's par for the course when you pillage a two-year-old single for melodies. She made the most of it, though. Shoe scandal notwithstanding, this year marks the least gaffe-iest Katy Perry news cycle in a long time. Can she keep it up?