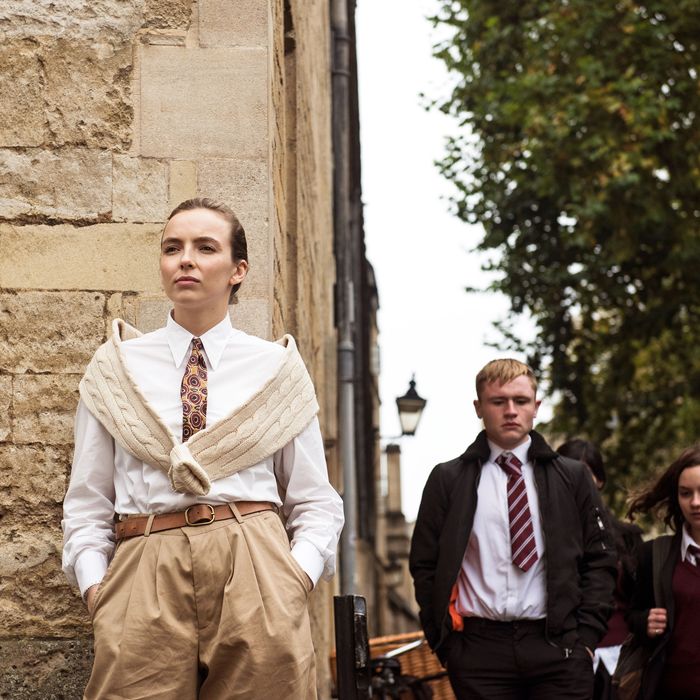 Photo: Parisa Taghizadeh/BBCAmerica
Villanelle's voyage into the pedestrian world of private murder contracts continues, the latest installment of which involves murdering an unremarkable guy in a car wash. She's not the only one who's a bit bored with her day job; Eve is less than impressed with the stoic, silent Ghost sitting in her interrogation room and how little zing the contract killer brings to her work. "I wish she were a bit more fun. She kills people for a living!" says Eve, and it should probably set off more alarm bells than it does that she's so quick to associate fun and murder.
People at home and at work are finally starting to realize that something is very wrong with Eve. Her colleagues get a pretty huge red flag when she takes out on a hit on herself, which she decides is the only way to find out who hired the Ghost. This neither makes sense nor is a good idea, and when Carolyn brings in someone to stealthily evaluate Eve's psychological fitness — learning in the process that Eve does not have a normal, instinctive aversion to murder — he concludes that Eve is too close, that this plan is a no-go.
Somehow, the mission proceeds anyway, and as Jess notes, there's not much of a paper trail around all the super dangerous things Eve is doing. Between Carolyn's chumminess with Konstantin and her increasingly shady enabling of Eve, it's hard to tell if she's still a good guy, or which side she's on. When Eve asks if this little suicide mission is on the books and officially sanctioned, all Carolyn says is "sisyphean" — the word she won a spelling bee with as a child, and also a reference the Greek myth of Sisypheus, who was damned to push a boulder up a hill forever. That is certainly how I felt at certain moments during this episode, but it's hard to tell who Carolyn imagines is doing useless, thankless work — herself, Eve, or someone else entirely.
Kenny is the only person on the team who seems to recognize how bad and stupid this plan actually is. Not coincidentally, he is also the only other person who knows about the stabbing. Eve fires him when he refuses to get on board, then heads to the subway, where she briefly considers murdering a stranger! So, no downward spiral here.
Villanelle initially refuses to kill Eve when Konstantin gives her the order, but then shows up at her house in a black "mourning" dress and tells her to take poison, just as she once did to Konstantin. But it's all a ruse, and the pills are fake! We get another sexy kitchen scene where Eve and Villanelle almost kiss, and Villanelle agrees to talk to the Ghost, but there's otherwise very little payoff to either this spectacularly unwise plan or the character of the Ghost. After all the buildup about her being Opposite Villanelle and this great rival, we never even get to see them interact; Eve waits outside as Villanelle quickly extracts the information from the Ghost instead, and the audience experiences none of it. As Villanelle would say: BORING!
The Ghost gives up the secret identity of the person who hired her to murder Peele (a.k.a. the tech company guy: It was his son all along, which is such boring information that when I learned it, I briefly thought I had already known it). It's all part of the equally boring subplot about data and privacy and surveillance as a weapon that lots people want to buy. A weapon sounds interesting, but perhaps we'll learn that data is the greatest weapon of all so this can manage to be soporific, too.
Niko, who has long been the most boring part of Eve's life, enjoys a rare moment of sexual interest from her, although this is inspired not by his manly charms but rather the flowers that Villanelle sent to Eve. Poor Niko — not even his sex life is about him! Later, when Villanelle approaches Niko outside a school, there's virtually no sense of threat coming from her. This, too, is a sad sort of indictment of how little Niko matters, how superfluous he is to his wife. Villanelle apologizes for the anonymous complaints she made against him at his school. "I was just trying to get Eve's attention," she says. "But she does not care about your life at all." Why would she even bother to hurt him any more? What would be the point?
She also reveals the secret stabbing incident in Paris, which sounds ever so much like she's confessing an affair. In a way, she is. All of the most intimate and important parts of Eve's life now revolve squarely around Villanelle, and she's kept as much of that secret from her husband as she could. That doesn't leave much for him, or much of anything that is authentic between them, if there ever was. Despite all the concern that she's losing herself in Villanelle, who's to say the opposite isn't true — that maybe instead, she's more herself than she's ever been before.