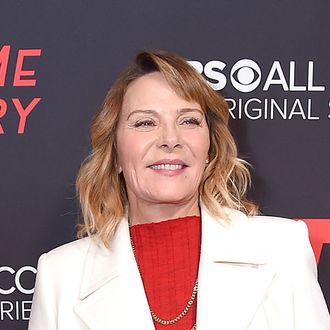 Photo: Michael Loccisano/Getty Images
Fox has picked up the drama Filthy Rich, which will star Kim Cattrall as the matriarch of a southern family. The show will follow the Monreaux family, who run a wildly successful Christian TV network. When the family's pappy/preacher dies, Margaret Monreaux (Cattrall) and her children discover that he sired three illegitimate children — all of whom are in his will. Cattrall has been on a small-screen tear as of late, with recurring roles in the Tell Me a Story, the Swedish thriller series Modus, and the miniseries adaptation of The Witness for the Prosecution. The pickup of Filthy Rich comes in the same week it was announced that Jessica Chastain and Andrew Garfield would be playing the Bakkers in a film. Hopefully we haven't already reached peak evangelical hypocrisy TV.
Either way, you can watch the series' first trailer, in which Kim Cattrall descends from the heavens wearing angel wings, below.