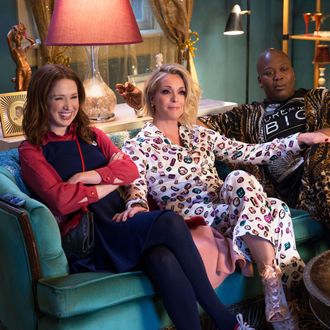 Ellie Kemper, Jane Krakowski, and Tituss Burgess on
Kimmy Schmidt.
Photo: Eric Liebowitz/Netflix
When Netflix's Unbreakable Kimmy Schmidt ended last January after four sunny seasons outside of Reverend Richard Wayne Gary Wayne's bunker, executive producers Tina Fey and Robert Carlock dropped hints they still had an idea for a "stand-alone" movie. Turns out they had something even more ambitious in mind: Kimmy (Ellie Kemper), Titus Andromedon (Tituss Burgess), Jacqueline White (Jane Krakowski), and Lillian Kaushtupper (Carol Kane) will return one last time to brighten up our lives in an interactive Kimmy special, Netflix announced on Thursday night.
"Unbreakable Kimmy Schmidt was one of the first original comedy series on Netflix, and now it will be its first interactive comedy event," Fey said during a Netflix FYC panel held in New York. "Fans will be able to make choices on behalf of our characters, taking different story paths with, of course, different jokes."
After experimenting with choose-your-own programs for children in recent years, Netflix released its first adult-oriented interactive special, Black Mirror: Bandersnatch, last December. That was followed by Bear Grylls's eight-episode nature survival series You vs. Wild, which premiered in April. There's no news yet on what the Kimmy special's plot will be about, or if it will take place right after the upbeat epilogue from its fourth and final season. But either way, it's another chance to say good-bye to our beloved former cult girl and her wacky friends — hopefully with plenty of weird puppets involved, too. The interactive Kimmy special will premiere in 2020.