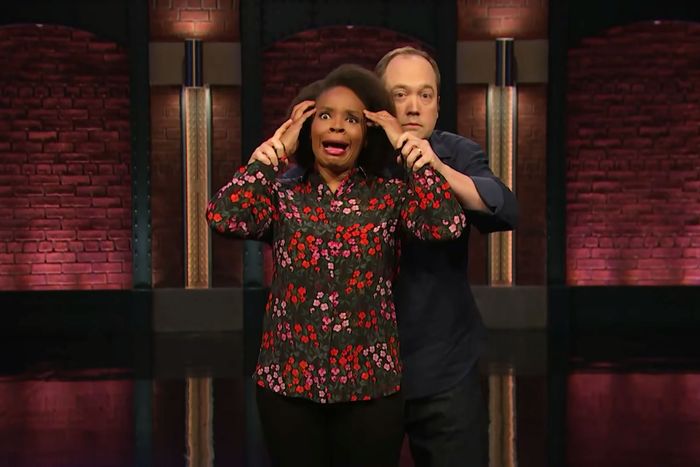 Late Night With Seth Meyers
.
Photo: NBC
Stephen Colbert opened his Wednesday night show lamenting the subject he was forced to talk about, thanks to the great state of Alabama: "It's a rare treat for a late-night comedian when the subject of your comedy is legislation restricting abortion," he said. "It's just a funny word, like guacamole." Yes, it's a hardship for people with uteruses to carry pregnancies to term against their will, but some empathy should be saved for the men in comedy who are forced to try to make femicide funny. To Colbert's credit, he went in depth on the Alabama abortion ban, which not everyone has. Wednesday's show not only had his first monologue dedicated to the issue, but he brought it up again with the Pod Save America boys. And when one of the Podboys sort of mocked teen girls for stanning BTS, Colbert called him out on it.
Colbert's monologue jokes highlighted the craven overreach of the law, and how it's designed to bring a challenge of Roe v. Wade to the Supreme Court. On the other hand, half of the time he was referring to abortion as "guacamole," which felt counterproductive. Normally, I'm 100 percent behind an insistent terminology joke, but euphemisms for abortion do a disservice to people trying to normalize the procedure. And Colbert made a "Beam me up, Scotty" joke, which is literally a bumper sticker. More effective were the late-night hosts who let women speak for themselves on the issue. This is easy on Full Frontal, since the host is a woman. But Seth Meyers also let his women writers express their fear and pain for themselves.
As any fan of Whose Line Is It Anyway? will tell you, someone else moving your body for you will diffuse any awkward moment. Furthermore, the physical gag of losing your bodily autonomy allowed the women of Late Night to seriously talk about the lack of maternal care in Alabama and their own feelings of dehumanization. This is the hardest part of being a news-based comedy: Sometimes the news is horrible, and jokes about it wind up feeling trivializing of someone else's pain. Cutting real feelings with visual gags is one way to find a balance between news and comedy. Samantha Bee went a different route, and just went ham on lawmakers.
There were jokes in Full Frontal's abortion piece, but more than anything there was yelling. Viewers got the vicarious thrill of yelling at a state senator. The dream! The piece was framed as sex ed for senators, but there's no way any of the senators behind these bills will watch Full Frontal and learn something. And that's fine. In times of hysteria and national gaslighting, telling the truth can be funny just because it's novel. Hahaha, remember when we agreed on stuff? Sometimes you just need to be told that you're not crazy and that your life has value. Perhaps even more value than a zygote.
Jimmy Fallon's audience had a tepid reaction to his Alabama jokes. Was it because the audience was packed with Howard Stern fans? A setup to a joke about Stern's politically incorrect and at times controversial persona got a bigger "Woooo!" than the punch line that followed comparing him to Trump. Fallon pointed out that the 25 white cis men who signed the Alabama ban were dicks for meddling in matters that didn't personally affect them, saying that they were equally as qualified to vote on the BET Awards. But he didn't point out that the reason 25 white dudes serve in the Alabama State Senate is at least partly due to voter disenfranchisement and racist gerrymandering. And why would he? That's more of Last Week Tonight turf. The joke probably would have gone over worse if it had been more biting. Fallon's audiences are expecting softballs like slow jamming the news with Buttigieg, and get a little confused when he takes a stand.
This is why it's important to diversify the late-night space. Desi Lydic's special on gender equality happened to come out the same week our country's inequality was best illustrated. In it, she argued that women's representation in government will make the biggest change in how women are treated in any country. Gender equality spurs economic growth and can improve quality of life for everybody in a society. Obviously late-night hosting representation is nowhere near as important as government representation, but Jimmy Fallon and Stephen Colbert cannot do it all. Seth Meyers loves to be the Jack Benny of his show, giving primo joke-telling roles to writers and guests alike. Sam Bee will always bring the righteous fury, and James Corden and Jimmy Kimmel will continue to give a showbizzy respite for those that want it. John Oliver and Hasan Minhaj bring deep analysis, domestic and worldwide respectively. But only Busy Philipps talked about her personal experience with getting an abortion, and she did it last week to boot. Before any of the other shows were hip to the problem, Philipps was generating hashtags and trying to put a human face on the issue.