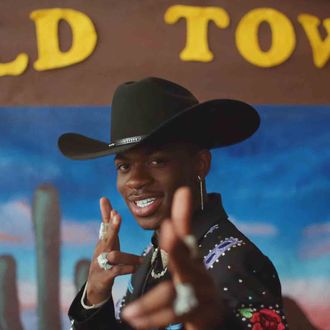 Lil Nas X.
Photo: Lil Nas X/YouTube
At a certain time in a young cowboy's life, you must take your horse to the old town road. You must — and this cannot be stressed enough — riiiiide 'til you can't no more! Welcome to the music video for Lil Nas X and Billy Ray Cyrus's "Old Town Road" remix. The duo gallops into view with a full bag of cash, before there's a time warp, sending Lil Nas X to the old town road of 2019, spreading yeehaw culture to the masses. He and his horse win a drag race against Vince Staples, he brings square dancing back into fashion (with Diplo on washboard beats), and he makes time to take a joyride with Billy Ray Cyrus in a pink Maserati sports car.
The five-minute "movie" features cameos from Chris Rock, Vince Staples, Diplo, Ha Ha Davis, Rico Nasty, Youngkio, and Jozzy. It also features a not-so-subtle sponsor from Snapple, with a flavor called "Yee Yee Juice." The controversial country song just beat out Taylor Swift in the Billboard charts for the No. 1 slot of Hot 100 and already smashed Drake's streaming record.
To quote the country queen Miss Kacey Musgraves: "Welcome to the yee yee club, bitch!"