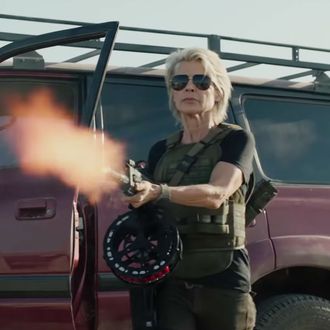 Terminator: Dark Fate
.
Photo: Paramount Pictures
In Terminator: Dark Fate a half-human, half-cyborg (Mackenzie Davis) is on a mission. What is that mission? We don't know exactly, but she's about to get a lot of help (and guns) from Sarah Connor (Linda Hamilton) and T-800 (Arnold Schwarzenegger). The new teaser trailer for Dark Fate features Dani (Natalia Reyes) as a very scared human in a world full of resilient robots and a missile-launching Sarah Connor.
The film also stars Marvel's Agents of S.H.I.E.L.D.'s Gabriel Luna as a shape-shifting robot hell-bent on murdering absolutely everyone. Terminator: Dark Fate is a direct sequel to 1991's Terminator 2: Judgement Day (ignoring the subsequent three Terminator films). The movie is directed by Deadpool's Tim Miller and produced by creator James Cameron, who also helped write the screenplay.
Dark Fate is the sixth installment in the franchise after 2015's Terminator: Genisys, which had such a lukewarm reception at the box office that its sequel was canceled (even though James Cameron liked the movie a whole lot). Dark Fate marks Cameron's return to the franchise that started in 1984. Who knows, if Terminator: Dark Fate does well, maybe we'll get more butt-kicking Sarah Connor? There's no word yet on how the new film will fit into the 30-year franchise or exactly which timeline it's from. Currently, Cameron is working on four more Avatar films for Disney throughout the next decade.