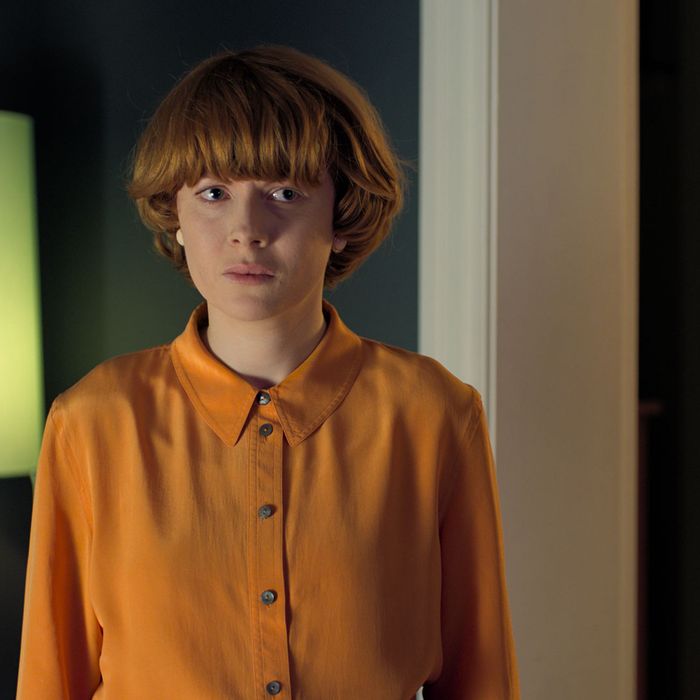 Photo: Coop99 Filmproduktion
Plants! I know I'm supposed to covet and cherish them, since, as a millennial, I will likely never be able to afford human children, but I confess I can't get onboard with Kingdom Plantae. Have you ever seen those sped-up videos that prove how, unbeknownst to us all, plants are actually moving at speeds imperceptible to the human eye? I have, and they've shaken me to my core. Plants are simply not to be trusted. Never have been, never will be.
Fortunately, I appear to have a kindred spirit in Austrian director Jessica Hausner, whose feature Little Joe premiered at Cannes on Friday. Pre-screening buzz suggested the film plays like a supersize Black Mirror episode, and that's not far off. It follows Alice (Emily Beecham), a plant scientist who has just engineered a new kind of flower with a scent that's intended to spur dopamine production in the brain, thereby improving its owners' moods while incentivizing them to care for it as they would a child. Alice, a chilly redhead in the vein of Miranda Hobbes, has Joe (Kit Connor), an actual child she's neglecting, which makes the irony only more potent when the power of the flower, which she has dubbed Little Joe, appears to work all too well. You see, Alice bred the plant to be sterile, but an unfortunate side effect is that Little Joe has found new means to propagate itself. Life, as another movie scientist once said, finds a way.
Throughout the film, Little Joe doesn't do anything plants don't ordinarily do; it doesn't grow teeth, sing songs, or eat a dentist, to name three things totally at random. It just grows, blooms, and releases pollen every now and then — you know, normal plant stuff. But that doesn't stop it from achieving incredible levels of creepiness. (The score, which incorporates all manner of animal sounds, helps as well.) Hausner and her cinematographer, Martin Gschlacht, have an outstanding eye for color — the whole film is a feast of olive and pink — and they've made Little Joe a sickening blood-red. When the flower blooms, it reveals sharp tendrils that seem almost malevolent. When it releases pollen, it lets out a tiny little hiss you'd be well advised not to ignore. Of course, Little Joe doesn't even move. It doesn't need to. It's got a plan.
Most sickening of all is that Little Joe's terrible scheme for world domination actually does appear to improve the lives of the humans it touches (with some notable exceptions). They're less anxious and more balanced, with a healthy sense of perspective on the issues that used to bother them — almost as if they've gone to therapy. It seems, as internet plant company the Sill likes to say, that plants really do make people happy. And that's the scariest part of Little Joe. If plants are making people happy, what's in it for them?