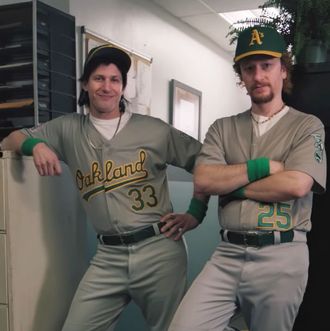 Andy Samberg and Akiva Schaffer in
The Unauthorized Bash Brothers Experience
.
Photo: thelonelyisland/YouTube
Yesterday, the Lonely Island teased fans about a mysterious surprise debuting on Netflix at midnight, and if you guessed it would be a lost visual rap album from baseball legends Jose Canseco and Mark McGwire, congrats, you're an extremely talented guesser! Titled The Unauthorized Bash Brothers Experience, the half-hour musical-comedy special begins with this opening note:
In 1988, Major League Baseball was set aflame by Jose Canseco and Mark McGwire, a.k.a. the Bash Brothers.




They were known for their towering home runs and mind-bending play, but what many don't know …




Is that they recorded an album …




Of raps.
In case you're not lucky enough to have Netflix, the Lonely Island already uploaded two segments from the special to YouTube. In one, "Uniform On," Canseco (Andy Samberg) and McGwire (Akiva Schaffer) rap about their legendary status — and, of course, having steroids injected into their butts:
Another clip the group uploaded features Jenny Slate, Hannah Simone, and Sterling K. Brown standing in for musical guest Sia in the music video for the Bash Brothers' song "Oakland Nights." It's a smooth, romantic slow jam where the guys attempt to woo some ladies "Dick in a Box" style with such lyrics as "Now have a seat on this couch made of horse leather / I'm told the horse that it's from could run fast and far" and "Squats in the living room, can I get witness / The greatest aphrodisiac is physical fitness." But Sterling K. Brown arguably steals the show here for lip-syncing Sia's silk-robe-and-kimono-obsessed lyrics. He even has his own Sia wig!
Thank you, Lonely Island, for this incredible, unexpected gift.