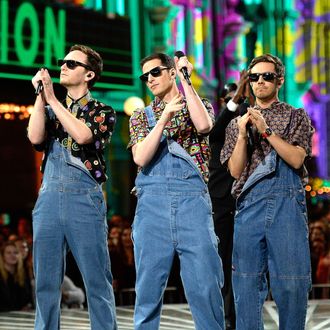 The Lonely Island.
Photo: Kevork Djansezian/Getty Images
Andy Samberg, Akiva Schaffer, and Jorma Taccone, a.k.a. the Lonely Island, are currently prepping for their first-ever live tour, which kicks off at Bonnaroo next month and makes stops in Washington, D.C.; Philadelphia; New York; Boston; Detroit; and Minneapolis. But in the meantime, they have what looks like a very special, surprise treat in store for us all tonight.
On Twitter and Instagram today, the group posted a short teaser for a Netflix project dropping at midnight, and the only thing we know about it so far is the teaser text: "A Lonely Island Visual Poem." Check it out for yourself below:
Between the tour, Schaffer's upcoming Rescue Rangers directing gig, and Taccone's (we hope) continued mission to turn MacGruber into a television series, these three are keeping very busy these days — but apparently not too busy to drop something that, as indicated by Seth Meyers, is probably going to be super weird and fun:
What, exactly, will a "visual poem" from the Lonely Island look like? Will it be just a very long promo for the tour? Will it take the form of a new music video? Will it be a mini–sketch show? Will it be a thorough, in-depth analysis of SNL season 44? A bonus I Think You Should Leave collaboration with Tim Robinson? WHAT IS IT, AND WHAT DOES IT MEAN? Guess we'll all have to fire up our Netflix accounts at the stroke of midnight to find out.
Update, May 23: The surprise has been revealed: The Unauthorized Bash Brothers Experience! Check out two music videos from the half-hour special right here.