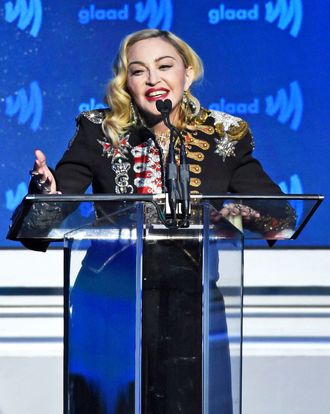 Madonna at 2019 GLAAD Awards.
Photo: Evan Agostini/Invision/AP/REX/Shutterstock
Madonna received the GLAAD Advocate for Change Award at the 2019 GLAAD Media Awards on Saturday and her new music was everywhere. Hosts Anderson Cooper, Rosie O'Donnell and Mykki Blanco shared kind words about the certified Queen of Pop before calling her onstage, then a teary-eyed Madge walked up to the podium with her new song "I Rise" playing in the background. In her speech, Madonna said, "Growing up I always felt like an outsider, like I didn't fit in." She recounted a story where her ballet teacher (the first gay man she ever met) brought her to a gay club in Detroit where she saw "incredible dancing and a kind of freedom and joy and happiness that I had never seen before."
She recalled how the 1980s HIV/AIDS crisis caused her to speak up and become an activist. With a snap of her fingers she described how quickly the "black cloud" took away close friends, including her ballet teacher Christopher Flynn. Her losses made her "take up the bullhorn and really fight back."
Madonna closed out her speech with a reference to her new musical persona and album title Madame X. She explained, "It is every human's duty to fight, to advocate, to do whatever we can and whatever it takes. Madame X is a freedom fighter" and quoted her new song "Extreme Oxidant." She is the second person to receive the award, after Bill Clinton in 2013.
Madame X's release date is June 14 and includes the already released singles "Medellín" (featuring Maluma) and "I Rise." In May, Madonna will perform at the very controversial 2019 Eurovision in Israel before embarking on a residency-style tour in September. Madonna's entire GLAAD Awards speech is below.